Irish Luck UK Slot Game
Play Irish Luck at UK Slots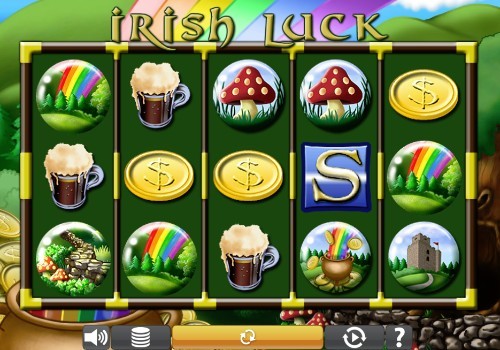 New Players Only. 65x Wagering. £250 Max Win. Full T&C's Apply
Irish Luck UK Slot
Eyecon's take on the Irish legends genre is a five reel, three row slot game with an RTP of 95%, 25 paylines and a big jackpot of 3000x your original stake. There are Prize Pick, Match & Win and Gamble bonus features available to enhance your chances of a win. We're happy to offer Irish Luck to players right here at UK Slot Games, where we also offer over 600 slot games, including 'Starburst', 'Rainbow Riches', 'Fluffy Favourites' and 'Bonanza'.
Hottest UK Slots
There is no shortage of online slots based around the 'Irish legends' genre. We offer several of them to play here at ukslotgames.com, and you'll find out more about the other titles as we get a little further into this review. Because so much of Irish folklore is associated with lucky leprechauns and lucky charms, there's an obvious connection to gaming, and so pretty much every major developer has offered their own take on the topic at some point. In order to stand out among so much competition, it's not just enough to be good; you have to be exceptional. This is, after all, the genre that boasts the legendary Rainbow Riches series of slot games, and that means the bar is set very high. Can Eyecon's Irish Luck compete? Read on and find out.
Before we get into the cut and thrust of the review, we should point out that this isn't the only slot game with the name Irish Luck currently available on the market. There's a game with the same name developed by Playtech, and the two shouldn't be confused. They're very different games. For the record, we prefer this one.
Similar to Rainbow Riches, this game is going for a 'fun' feel. There's a slightly cartoonish approach to the graphics, and liberal use of the theming. A rainbow arcs across the sky in the background of the game, where the reels are set against lush green hills of the kind that always exist in Irish fairy tales. Everything is bold and bright, with the colour scheme staying just the right side of 'garish'. There's no soundtrack playing in the background, which is a shame, but there are some nice musical cues when winning lines are located, and a few sound effects borrowed from old school fruit machines when the reels are spinning. Traditionalists will definitely be pleased.
There are none of the standard lower value symbols you might otherwise find on an online slot here; for once, we're not dealing with playing cards! Instead, you'll find many of the stereotypes of Irish lore, which offer differing values. Gold coins or pints of Guinness (at least, we assume it's Guinness!) offer 100 coins per payline. Castles or toadstools can pay up to 200 coins, and an old stone wall leading up a hill is worth up to 300. Many believers in Irish legend have gone in search of rainbows and pots of gold, and you'll be doing the same here; either one can pay out up to 500 coins on a winning line. The top earner is a symbol of a tree full of gold coins. Landing two, three, four or five of them will give you a reward of five, thirty, one hundred or one thousand coins. The latter of those is forty times your original stake.
We're not done there with the symbols, either! You'll notice some letters appearing on the reels too. You might expect them to spell out 'WILD' but in fact they spell out 'IRISH'. The more of the word you can spell in one spin, the higher your reward will be, but if you can spell out 'IRISH' left to right across the five reels, you'll trigger the game's maximum jackpot.
Your wild is a four leaf clover, which is unsurprising giving the significance of the plant in Irish legend. It's just as lucky to find them here as it is in real life! It replaces all symbols other than the scatters, and doubles the value of any winning payline that it becomes part of.
The scatters are a pair of grinning people; one of which is a leprechaun and the other is a fairy. Landing them in multiples will pay you a prize, but they'll also give you access to the bonus features. Let's look at them in more detail.
Bonus Features
As you've already seen, there are a number of symbols involved in this game, and some great ways to win good money within the base game, without ever arriving on a bonus feature. The bonuses are fun to play though, and offer you further ways to win.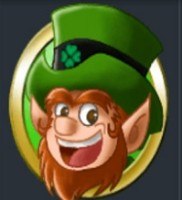 1. Prize Pick: Prize Pick is triggered by landing three or more of the smiling leprechauns. This takes you to a fresh game screen, where you're allowed to select one prize for each of the leprechauns you found. Whatever you pick can only be one of two options; a fairy, or another leprechaun. The leprechauns are helpful; each one gets you ten free spins, during which the value of all winning lines are doubled. The fairy will give you a multiplier, which could be up to 100x your initial stake. Combine the two together, and you have an excellent bonus!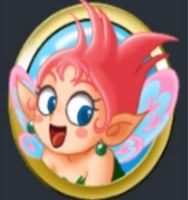 2. Match and Win: Match and Win is triggered by the smiling fairy scatter instead of the leprechaun. Again, this will take you to a different game screen, which is full of clovers. All the clovers are covering different multipliers. Much like a scratchcard, you're looking to find matching pairs. Whatever matching pair you find will be applied to your stake and awarded to you as a prize. The top multiplier available within this mode is 100x your original stake.
Gamble Feature is something you'll likely have encountered before; the chance to double the value of your last win by taking a 50/50 chance. If you win your prize is doubled, and if you lose it's all gone. You have to be feeling lucky to give it a try!
Between the bonus features and the offerings available within the standard game, Irish Luck is a potentially generous game if your own luck is in.
Irish Luck Developer - Eyecon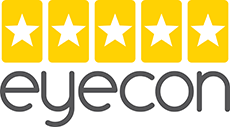 Anyone who knows and loves online slots will need no introduction to Eyecon Games; they're one of the biggest names in the industry, and they have a well-earned reputation for quality. They actually started life making regular video games, which probably explains the video-game style quality and innovation that their slot games often feature during bonus rounds - although they don't do that every time, as evidenced by this game.  
Eyecon were founded way back in 1997. They caught the world's eye with a game called 'Gore', which was downloaded several million times and established them as a confident and capable name in the digital entertainment world. In 1999, they decided their future would be based around making online slots; they'd seen the way the internet was developing, and decided to get their foot in the door before almost anybody else.

They took their time to get it right, and didn't put their first release onto the market until they were sure they had a hit on their hands. That was 2003's 'Temple of Isis', which is still popular with players today. One of their key strengths has been to make games that are designed to last for a long time; instead of jumping onto the latest trend, or building games around a theme that will only be popular for a year or so, they create games with the intention that they'll have a timeless appeal, and keep players coming back year after year.

Even if you've never heard of Eyecon by name before, you're probably familiar with their most famous and lucrative game; Fluffy Favourites; which continues to take the gaming world by storm, and is also available to play right here at UK Slot Games.
Eyecon have released over sixty slot games to date, and their success has seen them able to open offices in both Australia and Guernsey. Whilst online slots are the focus of their business, they also have roulette and bingo titles on the market, too. Amazingly, Eyecon slot games receive more than six billion spins every year. That's almost 11,500 a minute!
Discussing the game on their own website, Eyecon say:-
"Embrace your inner lucky leprechaun when you play Irish Luck Slots. It's one of the best online slot games around, and once you start spinning, it'll be clear why! It's a fun and light-hearted Irish themed game, filled with all things lucky – Four Leaf Clovers, Leprechauns, Fairies, Frothy Beer and more! It's an easy game to play, and you're guaranteed to have the best time whilst winning big! Green never looked so good! Don't miss another minute of luck – spin to win Irish Luck Slots today!"
You can tell their level of excitement just from the number of exclamation points. In all fairness to them, they're mostly right. Whilst calling it 'one of the best online slot games around' is likely a stretch, Irish Luck is definitely a fun slot game that balances entertainment with big prizes.
Related UK Slot Games
There are a few; let's make that point clear before we even get started! Irish folklore is one of the most popular sources of inspiration for online slots. If we listed every single one of them, this article would go on for the rest of the year. Instead, we're going to focus on quality offerings elsewhere, and similar titles available within Eyecon's own range first of all. Irish Luck isn't there only entry into this breed of games.
Fiddle De Dough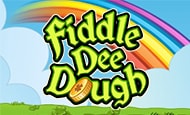 The graphical style of Fiddle De Dough will immediately be familiar to anyone who's played Irish Luck. With three reels, three rows and nine paylines, this is a game that's taken the soul of Irish Luck and turned it into something more simplistic and traditional, more akin to an old one armed bandit than a fruit machine. Despite that, it still finds a way to include the same Prize Pick feature that Irish Luck offers. It has another thing in common with Irish Luck too; its RTP of 95%. This is a basic but lively game, with a violin backing track that won't get out of your head for hours after you've played it.
Kiss Me Clover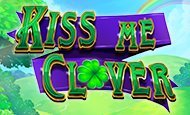 Kiss Me Clover is Eyecon's third Irish themed game, and this one seems to have been designed to involve female players a little bit more. The title character appears to be a female leprechaun, who welcomes you to a game featuring five reels, three rows, twenty five paylines and an RTP of 95.3%. Visually it has a style of its own when compared to both Irish Luck and Fiddle De Dough, focusing more on the fairy tale elements than it does the stereotypes. There's only one bonus feature, which is a wheel of fortune round offering multipliers of your original stake. It's a fun game to play, but doesn't have the depth of Irish Luck.
Irish Luck Jackpot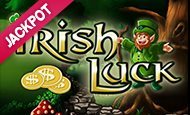 A sequel of sorts to the original game; in truth this looks and feels exactly the same as the original Irish Luck, but is linked to a progressive jackpot. That tends to be how any 'jackpot' version of a slot game works. This game will appeal to anybody who wants to chase really huge prizes, but they should be aware that the RTP of the base game in this version has been dropped to 89.9%.
Similar Slots to Irish Luck
Calling any game a clone or a copy of any other game within the Irish legends genre isn't fair. There are just too many games using the same theme, and to say one has taken anything from the other would be harsh, when chances are every game owes something to one that came before it within the theme. Irish Luck, for example, owes an awful lot to Rainbow Riches, but that doesn't mean to say it's a clone or a copy; just a similar game. Here are some of the leading alternatives to Irish Luck that also borrow from Ireland for inspiration. We offer many of them to play here at ukslotgames.com.
Rainbow Riches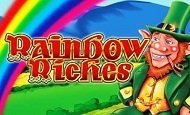 Barcrest's Rainbow Riches is an outright legend of the online slot world, and one that's lasted from almost the dawn of the concept. Most titles that were released more than ten years ago have seen their appeal fade as time has gone on, but Rainbow Riches isn't like most slots. It was light years ahead of its time in terms of its bonus rounds; particularly the 'Road to Riches' bonus which still appears in most of the sequels. With an RTP of 95%, 20 paylines and a charm that's defied the years, this grizzled veteran is still definitely well worth a look. It won't look or sound quite as advanced as Irish Luck does, but that's mostly because of the time that's passed between the games.  
Leprechaun Song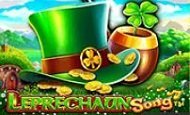 Pragmatic Play's Leprechaun Song is a smooth, slick and colourful online slot. It definitely comes from the same world as Irish Luck, but adds better quality animation and a jaunty Irish soundtrack. There are some innovative bonus modes available to keep the game interesting, and an RTP of 96.46% is never to be sniffed at. We wouldn't want to say that this was a better game than Irish Luck; it just achieves the same great result in a different way. As we offer both games to play here, why not try both and decide which you prefer?
Irish Eyes 2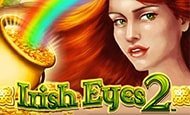 NextGen aren't going to be left out of the Irish legends genre. This is another pretty game which takes on the Irish theme, and also adds some beautiful women to the reels to keep the male players interested. We don't know if it does the same thing for the women. Pots of gold are what you want to see on the reels; so if you've played an Irish themed game before you already know what you're doing here. The bonus modes are free spins, and a gamble feature that enables you to wager the total of your previous winnings. The RTP is a decent 95.04%, but it feels like it's missing one or two innovative twists or bonus features that would take it to the same level Irish Luck operates on.
Gameplay On Mobile vs Laptop
Irish Luck was released in 2017. Because of that, you'd hope for a smooth transition between mobile and desktop versions, without losing any of the charm, the features of the functionality.
Happily, that's exactly what you get. Eyecon do particularly well with adapting their games for the hand-held format, and so Irish Luck plays just as well on a smart phone as it does on your computer. The display is even adaptable, relocating the playing area and the buttons depending on whether you're viewing the game in portrait or landscape mode. Either one feels natural and intuitive. You even get to see more of the pretty background in portrait mode, without feeling like the reels or buttons have become too small.
If you're more likely to play slots on your mobile than you are your computer, you'll be pleased to know that Irish Luck is definitely an option to consider; it's certainly no worse than it is on a desktop, and depending on how you feel about scenery you might even consider it to be better!
Latest Irish Luck News
As it's been a couple of years since Eyecon released Irish Luck, news has died down a little among the industry's press. That's not always a bad thing, though. Titles are released, are reported on, and then go back to sitting in the background. Hundreds of online slots are released every month, and so not every title gets the benefit of being reported on for its entire working life.
Sometimes, finding a game that isn't widely publicised can be a bonus. It's like seeing a band that nobody else has heard of, or seeing a film in an independent cinema when everyone else is watching the latest blockbuster. Basically, it means you might have found something great that nobody else has caught onto yet. Irish Luck is a very good game. If the attention of the gaming press is elsewhere at the moment, that's their own loss. Don't miss out yourself just because they have!
Why Is UK Slot Games The Best Place To Play Irish Luck?
If you feel like you're reading to go looking for pots of gold at the end of the rainbow, then this review has done its job. We wanted to get across to you how fun this game is to play, and we hope we've done that. Having said that, this game is all about the luck of the Irish, and we'd like to think that it's lucky you've found out about it on our website. Now, we'd like you to stay here and play the game with us on ukslotgames.com.  
Not every online slot website is equal. There are some great ones out there, and some terrible ones too. We're of the opinion that we're one of the great ones, and here are the reasons why.
For a start, we have a hugely extensive range of slot games that the vast majority of websites could never hope to get near; we have over 600 popular slot games available for you play, and they're a carefully curated selection based on quality and fun. We have a range of different themes, and games of different difficulty, that should appeal to the new player and the experienced gamer alike. If you're bored of playing your usual slot game, there's always a new one for you to find on UK Slot Games.
Secondly, we don't force you to deposit money when you first sign up. Everybody is welcome to make an account, and you can then browse our entire catalog to find a game you really want to play before you hand over any money. Irish Luck is a fine place to start, but there's no reason to stop there! In fact, we do the opposite of forcing you to hand over money. When you sign up, you could win up to 500 free spins on our games just for doing so!
We like to keep giving you free spins, too. Every time you deposit £20 or more through our safe, secure PayPal processing method, you're eligible to win more free spins. On top of that, our players can receive up to 10% as a daily cash back incentive!
We're a friendly company who genuinely appreciates your custom, and want you to enjoy spending time with us. We're always looking for new ways to reward regular players and thank you for choosing us. A genuinely great product range with genuinely great incentives should mean happy customers; so in that way, you can consider it our job to make you happy. Come on in and let us show you!