Autumn Gold UK Slot Game
Play Autumn Gold at UK Slots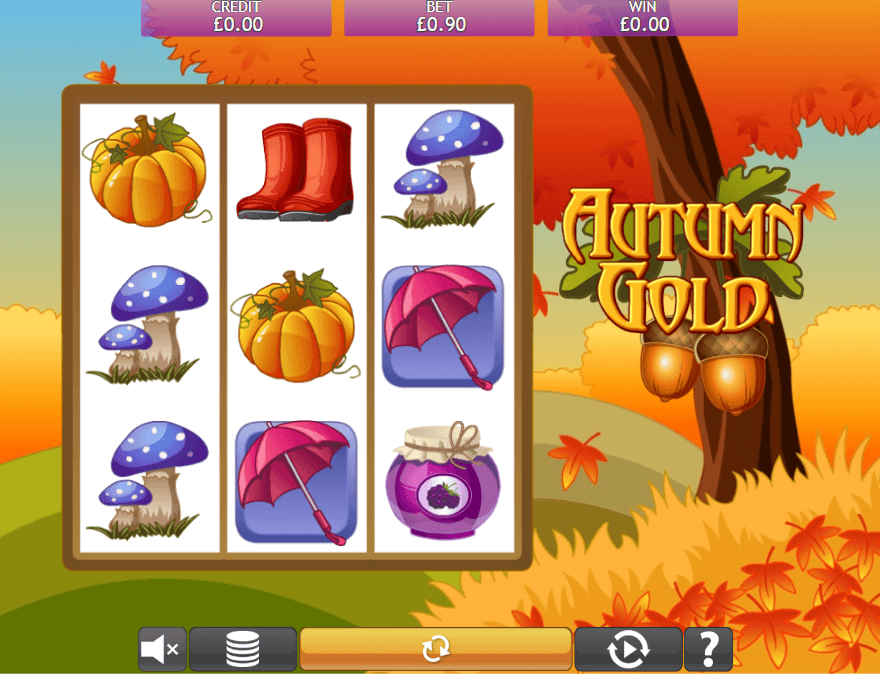 Autumn Gold UK Slot
Autumn Gold is a 3 reels, 9 paylines UK slots game by Eyecon. Autumn Gold has Bonus Symbol, Bonus Game, Free Spins, and Gamble features, and an RTP of 95.4%. If you'd like to take Autumn Gold for a spin, do it here at UK Slot Games, where we also offer more than 500 leading UK slots including Great Rhino, Starburst, Rainbow Riches and Bonanza.
Hottest UK Slots
Autumn is a beautiful time of the year, isn't it? The leaves on the trees turn golden brown, you get the last of the year's sun at a temperature that doesn't threaten to roast you alive, people's thoughts start to turn to cozy winter nights, and you can win a lot of money playing online slots. Granted, the latter thought might not be one that's commonly associated with Autumn right now, but Eyecon is trying to change that with this entertaining UK slots game, which was released in early 2018.
The very first thing you'll notice about Autumn Gold is its simplicity. This is a three reel, three-row slot of the style most commonly associated with one-armed bandits and old-fashioned slot machines from yesteryear. If you think that means that this is a strictly-traditional affair with no bonus features or extra layers, though, you'd be sadly mistaken. There are many slots UK players can turn to if they want something basic or traditional, and UK Slot Games is full of them. Autumn Gold has plenty more going on below the intentionally-simplistic surface.
Part of the reason for the simple, streamlined design is that it's an easy slot to play on a mobile device. It doesn't require much screen space, and so it works fantastically well on a smaller display. The other reason is that Eyecon just wanted to enchant you with their design skills. They say less is more, and those who say that could point to this slot as evidence. The theming is genuinely beautiful, with a warm, soft palette of colors and a landscape-style background that will remind you of a walk through the English countryside.
Experienced UK slots players will be more than familiar with the way Eyecon commit themselves to a theme when they've decided to use one, and that means nothing is out of place on the reels. You'll see no boring old playing cards here. Having so little space on the reels necessitates a cautious approach to the number of symbols, but you'll find a squirrel, an owl, a pair of wellington boots, a jam jar, a pumpkin, and a couple of mushrooms. All the sights of an Autumn day among nature! The slot's logo is the most valuable of the basic symbols.
There isn't a wild symbol in the slot (with only three rows, you don't really need one), but there are a couple of bonus symbols. One is a golden-brown Autumn leaf straight from a tree, and the other is an umbrella. We suppose that's Eyecon's way of reminding us that as lovely as Autumn is, it can also get quite wet! Both symbols have implications when it comes to the slot's bonus symbols, so it's time we paid them more attention.
Game Features
Triggering either of the Autumn Gold bonus features relies on finding either one of the related bonus symbols in triplicate on any one spin.
Free Spins
Land three autumn leaves, and you'll play Autumn Leaves' Free Spins feature. You'll start off the round with eight free spins of the reels, although it's possible to re-trigger the feature by finding three more leaves while those eight spins are in play. Any wins you find during your free spins are worth three times the amount they would be during standard play, so it's a rewarding feature.
Prize Picker
If you find three umbrellas instead of three leaves, you'll be taken to a new screen, and asked to make three selections from the options you're presented with. It's a prize-picker feature! All of the icons on the screen are hiding a multiplier. Some of them are worth far more than others. The top multiplier available here is worth a very-specific 111x your stake, so be lucky when you're picking, and you could come away with a huge cash prize!
50/50 Gamble
As is common with Eyecon's UK slot games, you'll also have the chance to stake your most recent win on a 50/50 gamble. If you decide to do so, you'll be presented with a choice of two options. Pick correctly, and your winnings are doubled. Pick incorrectly, and your winnings are lost. You may repeat the gamble up to five times in a row if you're feeling especially brave!  
This is good, clean, wholesome fun from a developer we've long admired here at UK Slot Games. We never knew slot games could be cute until Eyecon showed the world how to do it without putting players off; now we can't imagine life without them. This isn't among the more advanced or sophisticated slots UK players have access to, but it's something you can load up and play very easily, with the bonus features comparatively straightforward to trigger.
Autumn Gold Developer - Eyecon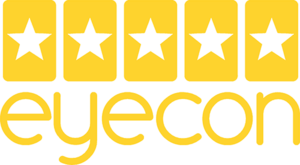 Eyecon is such a natural at making slot games that you'd naturally assume they'd been doing so for their entire life as a company, but that's not the case. When they opened in Australia during the mid-1990s, they wanted to be the next big name in video game design. They even enjoyed some success in the field, with their 'Resident Evil' inspired 1997 game 'Gore' being downloaded millions of times by players all over the world - and that's back when the internet was a new idea! Having such success online changed the way Eyecon thought about their business model, though. Now they'd clearly seen that people online were willing to spend money on games, they correctly assumed that casinos would soon be operating there in a big way.
After restructuring their operations to focus on designing online slots, they hit the market in 2003 with Temple of Iris slot - a slot so popular that we still offer it at UK Slot Games today! That was only a taster for what was to come though; in 2006, Eyecon released Fluffy Favourites slot game. The adorable slot, based on cuddly toys coming to life, created an entire genre that UK slots players had never even thought of before, let alone played. It was a runaway success, and has since been followed up by several sequels. It also turned Eyecon into a major name within the industry.
Not everything about Eyecon's range of slots is cute and cuddly; if you want evidence of that, go and check out Vlad's Castle! The range of genres and themes they touch on may go some way to explaining why UK slots players can't get enough of them; on average, more than ten thousand paid spins happen on Eyecon slots every minute of every day. Never mind Autumn Gold, for Eyecon, it's gold all year round!