Zeus God Of Thunder UK Slot Game
Play Zeus God of Thunder at UK Slots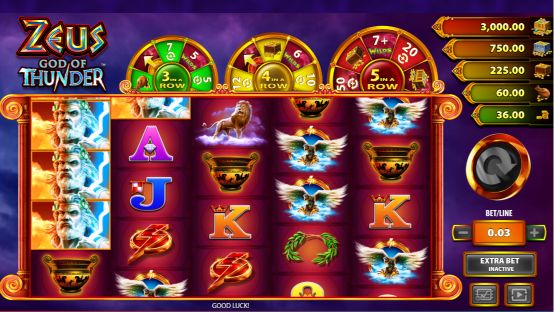 New Players Only. 65x Wagering. £250 Max Win. Full T&C's Apply
Zeus God of Thunder UK Slot
Zeus God of Thunder is a 5 reel, 30 paylines UK slots game by WMS Gaming. Zeus God of Thunder has Wild, Sticky Wild, Multiplier, Free Spins and Bonus Game features, and an RTP of 96.05%. We're delighted to be able to bring Zeus God of Thunder to you here at UK Slot Games, where we also feature more than 500 great UK slots like Great Rhino, Starburst, Rainbow Riches and Bonanza.
Hottest UK Slots
No UK slots player has ever complained about a shortage of slots themed around ancient history. Regardless of the era you're most interested in or passionate about, there are slots UK developers have put together for you to satisfy your tastes. Our biggest challenge at UK Slot Games isn't finding them for you; it's deciding which ones are good enough for us to offer to our players! WMS Gaming's Zeus God of Thunder is definitely worthy of inclusion. It's a great slot game, and by serving Greek myth as opposed to Roman or Egyptian, it's using a part of world history that doesn't see as much representation as most.
If you're not too good with Greek myth, we'll clear the title of this slot up for you. Zeus wasn't, strictly speaking, the God of Thunder. He was the out-and-out God, more senior than all of the other Gods, and therefore having ultimate control. We suppose that would make him the God of Thunder if he felt like it, but he could also be the God of bread, glass, eggs, or poetry if he so desired.
A game which boasts the name of the biggest of all Greek Gods should be one which is large in scale, and that idea wasn't missed by WMS. The gameplay here happens on an expanded set of five reels and four rows, but that's only the beginning of what's on offer. Eagle-eyed viewers will have noticed that there are mini-dials above the reels in the screenshots we've posted, and they have a function within the bonus features. We'll be talking about them shortly. In terms of basics, the reels are framed by era-appropriate stone columns, standing tall against a stormy sky.
We guess Zeus must have been a fan of playing cards, because their royal symbols of J, Q, K, and A are present to serve as the low-value symbols, below eagles, lions, a piece of Greek pottery, a bolt of lightning, and most valuable of all, Zeus. You may expect Zeus to be working as the slot's wild, but he doesn't. A further symbol in the shape of his temple does that instead, and can replace all other symbols to make winning lines. When that happens, the value of that win is worth double what it would otherwise have been.
Game Features
We know there are some slots UK players are wary of because of how complex they might appear on first inspection. Zeus God of Thunder risks giving that impression because of those dials hovering over the reels, but they're quite intuitive, and easy to understand. This slot has only one bonus feature to offer, so there's no risk of things becoming too complicated.
As you probably already guessed, the dials are vital to the function of the bonuses. We should give them their proper title - they're Wheels of Fortune. We have to tip our hats to WMS Gaming here as well - we think the way in which they're activated is unique among all the UK slots we've reviewed. It doesn't rely on bonus symbols, scatter symbols, or anything of the sort. Instead, you need to find empty spaces!
When you spin, you'll sometimes note that one or more of the positions on the reels is empty, and you can see right through the space. That's not a design flaw; it's a feature. Line up three of those blank spaces in a row, and you'll activate the most basic of the wheels of fortune. Get more than three to line up, and you'll get a better one.
Fittingly, there are three possible results of having three blanks. One of them is one of the slot's smaller jackpots (more on them in a moment). Another is 5-7 free spins, and the third option is a single free spin, but with five additional wild symbols added to the reels.
The rewards for four blank spaces are either a single free spin with an extra six wild symbols, 10-12 free spins with the standard reels, or the slot's major or minor jackpot, which are the mid-range prizes.
As you might expect, getting five blank spaces in a row is hard to do, and so the rewards are suitably impressive. You'll either get one spin with a whole 12 additional wilds, somewhere between 15 and 50 free spins, or one of the three larger jackpots available (mega, major, or grand).
The precise value of the slot's jackpots changes all the time, but it doesn't hide them from you - they'll always be in clear view, in the top right-hand corner of your screen. Sometimes, the larger jackpots are worth several thousand pounds.
You can take a step up with the bonuses if you wish, and use the Extra Bet feature. You only get the chance to use it when you've already triggered a bonus using the standard route, but for an additional 50% on top of your standard stake, you can upgrade to the next level of bonus.
As we said at the beginning, we think this is a clever and well-presented slot game. We always like to see developers trying something new when it comes to bonuses, and the way they work in Zeus God of Thunder feels unique. We also think the Extra Bet is a rare case of paying for bonus features being worth your time - it's a comparatively low price to pay for chasing much larger prizes. That decision is yours, though, not ours!
Zeus God of Thunder Developer - WMS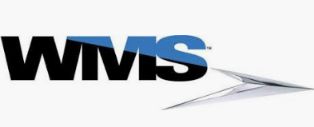 WMS Gaming is the company that put Zeus God of Thunder together, but WMS Gaming is an in-house property of a much larger company. That company is Scientific Gaming, who've made a series of large and expensive moves within the past decade to capture a piece of the slots UK market. Some of our more experienced players will recognize not only the name of WMS, but also Barcrest and Bally. All three companies were big names when it came to developing physical casino products before the internet existed. Now, they're all part of Scientific Gaming.
In the case of WMS, they date back to the Second World War. They opened in 1943 - an optimistic move, considering the war was still happening, and nobody knew what the future would hold! Henry Williams was the man who started them off, and also the first person to make a pinball table with the 'tilt' feature we now all take for granted. The company eventually focused on one-armed bandits, and then fruit machines.
They were a relative latecomer to the world of UK slot games; they persisted with making physical products until 2010, by which point almost everybody else had gone online. The moment they did so, though, Scientific Gaming were waiting in the wings to buy out the company and make them part of a larger collective.