Wild Warriors UK Slot Game
Play Wild Warriors at UK Slots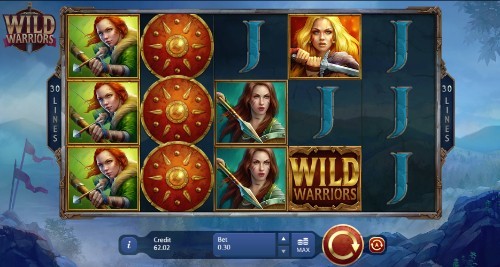 New Players Only. 65x Wagering. £250 Max Win. Full T&C's Apply
Wild Warriors UK Slot
This Playson game is a traditional 5 reel, 3 row online slot that belongs to the Action and Adventure genre. Set in a world of savage beasts and fierce female warriors, it boasts 30 paylines and an RTP of 94.60%. A free spins feature with expanding wilds brings the game to life. The best place to play it is here at UK Slot Games, where we also offer over 600 slot games, including 'Starburst', 'Rainbow Riches', 'Fluffy Favourites' and 'Bonanza'.
Hottest UK Slots
We live in a brave new world when it comes to female empowerment. For the past couple of decades, the idea of what is and isn't a traditional role for women has changed, and we now quite rightly accept that women are capable of doing anything that men can. That's the theme in Wild Warriors, where each of the warrior characters is a powerful woman; the kind you might find starring in a modern action film.
The game probably owes its inspiration to a couple of places. Firstly, it's doubtful that this game would have been created if the TV show 'Xena: Warrior Princess' hadn't opened the door for strong female barbarian characters years ago. Secondly, and more recently, the popularity of 'Game of Thrones' has created an appetite among the public for medieval battle dramas. Many of the stars of that show - especially the most feared ones - are female. Wherever the public shows an interest, slot game developers are sure to follow with the themes for their games, and so it was no surprise to see Playson release this online slot in 2018.
The game itself takes place in a dark and foreboding landscape. You're left with no illusion about what a dangerous place this would be to live! How fortunate you are to have four skilled female fighters to protect you from the terrain, which is made up of pitted rocks and misty skies, punctuated by flags, which may mark the outer reaches of a battlefield.
On the reels, the playing cards J through to A account for the lower values. Above them are a black panther, and then our female warriors, all of whom have different hair colours, which helps you to tell them apart! The blonde is the most valuable - a fact that may make dark haired female players shake their heads a little.
The game's logo accounts for the wild; it will replace any symbol other than the scatter to create new winning lines for you.
The shield of the warriors is the scatter symbol, and that provides access to the Free Spins feature. There are plenty of ways to win during the free spins so keep an eye out for them; collecting them in sufficient numbers is key to taking bigger prizes out of the game!
Bonus Features
Playson's games tend to go one of two ways when it comes to bonus features; they either include a variety of them to give players an expansive and immersive gaming experience, or stick to one or two and do it particularly well. In the case of Wild Warriors, they've gone with one bonus feature and one bonus feature only; but it's a classic that they've done with a twist.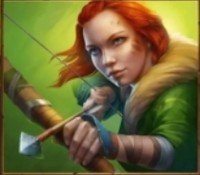 1. Free Spins: Free Spins are the order of the day for the bonus. To gain access to it, you'll need to find seven of the scatter symbols. At first glance that may seem like a lot; especially if you're used to playing games where a bonus will trigger whenever you find three or more matching symbols. Don't worry. It's not as unlikely as it sounds. There are comparatively few symbols in this game, meaning the ones that do exist turn up with a lot more regularity.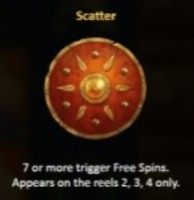 2. Scatter: Finding seven scatters will get you eight free spins. Find eight and your reward is twelve free spins. If you get a lucky break and find nine of the scatters, a whole twenty five free spins are yours. However many free spins you win, you also get an additional perk.


Colossal Symbols become active for the duration of your free spins. One giant symbol of each of the warrior women will be added to the reels, either at a size of 2x2 or 3x3. That hugely increases your chances of finding winning combinations during your free spins; especially if you're lucky enough to get the larger symbols.
Wild Warriors Developer - Playson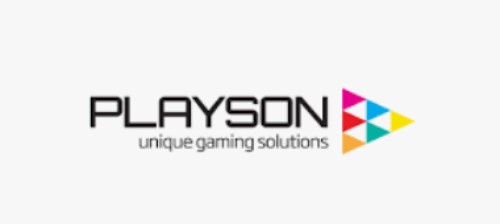 Playson are still a comparatively new company within the world of online slot developers. Based out in Malta, they were set up in 2012, but have expanded rapidly in their few years of operations. Today, they have offices in a number of major countries throughout the world, and are the employers of a workforce that numbers several hundred.
Their growth has been boosted in the past three years in particular; they weren't granted a license to operate within the UK until 2015, but having finally obtained one they've worked quickly to cater to the vast market within the United Kingdom.
At the time of writing, they've developed and brought to market over forty slot games, with several more in development, and production appearing to be accelerating as they take on more staff. They make no secrets of the games they're most proud of either; a quick look at the 'About Us' page of their website reveals that they have a special section dedicated to what they consider to be their best offerings. For the record, they're Crystal Crush, Lucky Staxx, Wild Warriors, Fruits & Jokers, Book of Gold, Phoenix Fire, Claws vs Paws, Legend of Cleopatra and Crystal Land. Legend of Cleopatra in particular is the game that Playson are currently best known for.
Whilst online slots are definitely the company's main focus, they do also venture into other casino staples, such as blackjack and roulette, for which they provide physical machines to casinos. They've also been known to work with other developers to boost their reputation as they fight to establish themselves; past collaborations have included co-launched games with 1x2 Gaming and Pariplay.
In the promotional text for the game on their own website, Playson say:-
"This 3x5 video slot with 30 lines tells the story of bold lady warriors. It features Wild symbols, which land in stacks and substitute all symbols. Scatter symbols also land in stacks. 7 or more of them on the reels trigger the Free Spins mode with Colossal symbols as big portraits of female warriors."
The description is typical of Playson's style; they don't waste a lot of time with words. They're too busy making more great online slots! This isn't the most advanced online slot you'll ever play, and nor is it quite the best looking, but it offers simple and traditional fun, with a fair chance of taking away large prizes. As players, we don't often ask for more than that.
Related UK Slot Games
Games with a historical or combat-themed narrative are popular among players, and always have been. There are no shortage of games that use themes similar to Wild Warriors, and we're familiar with the best known ones, which we'll outline for you here.
The first place we look at when we're trying to find similar games is the developer's own collection. When a slot developer releases a game, and it becomes popular, they'll often release a sequel, or another game that uses the same characters. Playson haven't had time to do that yet; Wild Warriors was released in November 2018, and so they'll want longer to see how it performs before they decide whether a sequel is merited. That being said, there are a couple of games in their catalogue that have something of a resemblance.
Viking Gods Thor and Loki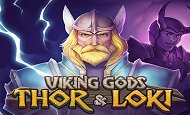 This Playson game stays within the realm of mystical combat, but gives things a Viking twist and applies itself to the world of Norse mythology. It's a little more cartoonish than Wild Warriors, and not quite as dark or atmospheric. There are also fewer paylines, with fifteen as opposed to the thirty that Wild Warriors offers as standard. Both Thor and Loki appear as symbols within the game, each of whom have different free spins rounds to offer to players. The expanding wilds that Thor offers will look especially familiar to Wild Warriors players. RTP is 96.88%.
Spellcraft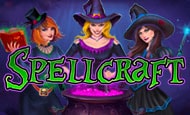 Players who want to see powerful female figures of a different kind might find themselves drawn to Playson's Spellcraft game. We're naturally inclined to stay away from witches, but in this spooky game, they can be quite helpful! Once again there's an expanding wild feature, but this game's real unique twist is that one of the witches can conjure a 'ghost reel' a sixth feel full of bonus symbols that can add to the pot. It lacks the simplicity of Wild Warriors and may have a few too many features for some, but players who like a change from the norm may enjoy it. RTP is 96.4%.
Similar Games
If strong female characters and/or action and adventure are your thing, you're in luck. Like we said earlier, there's no shortage of games that use this theme, and we have several of them here at ukslotgames.com. Here are a few of the better known options for your consideration. This is by no means an exhaustive list; there really is a world of choice out there for this theme, and we invite you to browse our gaming catalogue at your leisure to see if anything else may take your fancy!
Agent Jane Blonde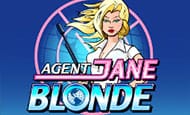 Every time there's about to be a new James Bond in the world of film, there's always an argument about whether the role should be filled by a woman. In our opinion, it already has; Agent Jane Blonde! This Microgaming online slot is a little older than Wild Warriors, and more cartoonish in style, but definitely features an empowered female character doing all the things that 007 himself can do. There are good Wild and Gamble features, some nice animations, 9 paylines and an RTP of 96.10%.
Fae Legend Warrior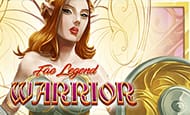 Eyecon have a long history of making games with interesting and unique characters, and Fae Legend Warrior is right at home in that bracket. Much like Wild Warriors, a strong female fighter is front and centre of the game. It's a standard 5x3 slot game with 25 paylines and an RTP of 95.3%, along with both free spins and a prize pick feature round. This doesn't have the atmosphere of Wild Warriors, and is a little more complex when it comes to its features, but it's undoubtedly a great game.
Wild Jane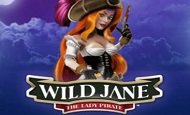 Who needs a whole cast of wild female warriors when you've got one Wild Jane? That must have been the thinking that drove Leander Games to come up with this online slot, which focuses on the swashbuckling adventures of Wild Jane, the lady pirate. Her entire ship, along with her female crew, are at your disposal, and the expanding wilds feature won't need explaining to anyone who's played and loved Wild Warriors. There's also a prize picker round to go with the free spins mode, and an RTP of 96.59%.
Sirens Serenade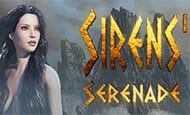 A dark, foreboding atmosphere. Bleak scenery. Dangerous women. All of those terms could be used when describing Wild Warriors, but they could be used just as appropriately to describe Sirens Serenade. This is an attractive 5x3 slot game by Saucify, with 25 paylines and an RTP of 94.99%. In what seems to be a common theme among games with strong female characters, there's an expanding wild to boost your chances during the game's free spins round.
Mobile vs Laptop Gameplay
Wild Warriors released in November 2018. It belongs to the modern era, and as such you'd expect the developer to have taken their time to ensure that their new release was just as playable on a mobile or hand-held device as it is on a traditional desktop or laptop. So have Playson done exactly that?
The answer is yes - if you hold your phone the way the game wants you to. With your device in landscape mode, everything displays perfectly. It's a completely faithful adaptation of the desktop or laptop version, and all the graphics and sounds have made their way from one version to the other without issues.
If you flip your device into portrait mode, things aren't quite so pretty. Everything is still visible, but the reels compress themselves into the top half of your screen, and the bottom half is purely given over to the buttons, which just don't need that much space. Everything still works fine, but it does make the reels a little harder to see, and it doesn't feel like an intelligent use of the space.
We appreciate that most gamers play with their device in landscape mode anyway, and so this shouldn't be an issue for them; however most developers now ensure that their games work smoothly no matter which way round a device is held, and so the portrait version of Wild Warriors feels a little clumsy by comparison.
In conclusion, if you're a fan of playing Wild Warriors on your computer, you'll enjoy it just as much on your tablet or smart phone. Just make sure you're holding the device in landscape mode and everything will be OK.
Latest Wild Warriors News
It's an unfortunate truth that not every slot game will garner massive amounts of press attention when it's released. That's been the case for Wild Warriors. Being released late in the year won't have helped its cause, and then there are a couple of other factors to consider as well.
Firstly, Playson aren't as well known as some of the major players in the industry just yet. If Eyecon or SG Gaming release a new game, you can guarantee somebody out there will be writing about it. Playson don't always get that guarantee. That isn't fair, but it's a problem that will solve itself as they continue to grow.
Secondly, Wild Warriors is a comparatively simple game. That doesn't draw as many eyeballs as a game that's full of features, or unusual twists, or one that has a tie-in to a popular film or TV show. The joy of Wild Warriors is its simplicity, and yet it might be that simplicity which has cost it column inches in the press.
The one place that did seem to be paying attention was the casino directory website online-casinos.co.uk, which published a list of late-2018 releases, and listed Wild Warriors as one of the attractions. Like us, they noted that the idea of a combat-themed game with female characters was well overdue; although they also paused to wonder how the women in the game stayed so good looking in such challenging conditions!
Think of it like this: Sometimes a film or a video game comes out, everybody knows about it, and everybody goes to see or play it. A smaller film or video game will come out at the same time, and fewer people notice, but then you find that smaller video game or film and you love it. That makes the experience all the more special, because you found something that nobody else knows about! Wild Warriors is a strong and simple online slot that's a lot of fun to play. The fact that it doesn't have a huge profile in terms of publicity doesn't change that.
Why Is UK Slot Games The Best Place To Play Wild Warriors?
Thank you for taking the time to read this review of Wild Warriors. Like we just said, it's a game that's gone under the radar, and we feel like we've given away a secret just by telling you about it!
If you enjoy traditional slot games, and you appreciate a good looking game that keeps it simple and offers generous bonuses, you're in luck. This might become your new favourite game. Why not find your sword and shield, and head in to do battle with the reels? If you do decide to take up the challenge, we'd really love you to stay here and play the game with us.  
Not every online slot website is equal. There are some great ones out there, and some terrible ones too. We're of the opinion that we're one of the great ones, and here are the reasons why.
For a start, we have a hugely extensive range of slot games that the vast majority of websites could never hope to get near; we have over 600 popular slot games available for you play, and they're a carefully curated selection based on quality and fun. We have a range of different themes, and games of different difficulty, that should appeal to the new player and the experienced gamer alike. If you're bored of playing your usual slot game, there's always a new one for you to find on UK Slot Games.
Secondly, we don't force you to deposit money when you first sign up. Everybody is welcome to make an account, and you can then browse our entire catalog to find a game you really want to play before you hand over any money. Wild Warriors is a fine place to start, but there's no reason to stop there! In fact, we do the opposite of forcing you to hand over money. When you sign up, you could win up to 500 free spins on our games just for doing so!
We like to keep giving you free spins, too. Every time you deposit £20 or more through our safe, secure PayPal processing method, you're eligible to win more free spins. On top of that, our players can receive up to 10% as a daily cash back incentive!
We're a friendly company who genuinely appreciates your custom, and want you to enjoy spending time with us. We're always looking for new ways to reward regular players and thank you for choosing us. A genuinely great product range with genuinely great incentives should mean happy customers; so in that way, you can consider it our job to make you happy. Come on in and let us show you!