Shogun of Time UK Slot Game
Play Shogun of Time at UK Slots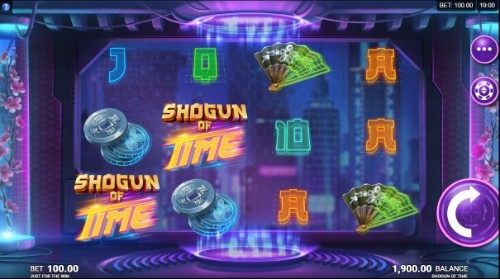 New Players Only. 65x Wagering. £250 Max Win. Full T&C's Apply
Shogun of Time UK Slot
Just For The Win have produced something unusual with this creation - an Oriental-themed online slot with science-fiction influences. It's played on a 4x3 reel-and-row set containing 81 pay lines, and comes with RTP of 96.02%. This is just one of our brilliant range of more than 500 slots at UK Slot Games, which includes titles like Great Rhino, Starburst, Rainbow Riches and Bonanza.
Hottest UK Slots
Using an Oriental theme for an online slot isn't particularly unusual. Pragmatic Play does it all the time, and Scientific Gaming's 88 Fortune has been popular with slot players for some time. To make a dent in the market using a theme like this, you have to think outside of the box. Just For The Win haven't just thought outside the box for Shogun of Time, they've thought outside of the house containing the box. Many of the visual themes of Japanese culture are here, but set within a futuristic sci-fi world.
As well as looking like it's from the future, Shogun of Time plays like it comes from the future of slot games, too. The layout may appear to be quite familiar at first glance, clearly being made up of four reels and three rows. When you look closer though, you'll notice that there's no division between any of the symbols. There's a reason for that - the winning lines in Shogun of Time can come from any direction so long as there are enough of them in a row. They don't have to start or end anywhere so long as they're on consecutive reels. That's how it's possible to cram 81 winning lines into such a small playing area (although it doesn't stay small during the bonus features, which we'll talk about soon).
With the theme being so original, Shogun of Time looks like no other slot we've ever played. It doesn't go for the cinematic look with its graphics, but it's clearly a world that belongs to another time. A Metropolis-style city is visible through large bay windows behind the reels. Flowers suspended in a liquid bubble away to the left and right of the reels. On the floor, there's a platform of some kind - similar to the type that's used as a matter transporter in 'Star Trek.' The impression we're given is that we're in the lair of a mad professor. It's equally possible that this is what everyone's home looks like in future Japan.
There aren't a huge number of symbols in Shogun of Time. This may be because the bonus rounds are where the majority of the slot's action comes from, and so the focus has gone there instead. 10 through A account for the least valuable symbols on the reels. The more valuable ones are some coins, a Japanese fan, the Shogun's armor, and most valuable of all the slot game's logo.
In addition to the above, there's also a wild and a scatter. The wild comes in the shape of the Shogun's mask, capable of substituting for every symbol apart from the scatter to create a paying line. The scatter is an Oriental pink flower and has implications for the bonus features. Speaking of them…
Game Bonus Features
Just For The Win gave us two bonus features to play with in Shogun of Time, and we enjoy both of them for their originality and flair.
The Reel Split Respin is one of the most novel bonus features we've ever seen in an online slot. It's also triggered in quite an unorthodox way. Creating a winning line that uses four of a kind or more will start the feature off. When it begins, a fifth reel will appear, bursting into life right in the middle and becoming the new third reel, pushing the others out of its way. This reel isn't like all the others - it's a time machine! It spins of its own accord and will reveal a set of matching symbols. All of the other symbols on the reels - including the ones used to in your winning line - freeze in place. If the matching symbols spun by the time machine are a match for anything else already in view, then the lines will be re-evaluated as new wins. It's a time machine because it makes wins in the present based on wins in the past! While this feature is active, there are technically 243 paylines available.
The fifth reel also makes an appearance in the Free Spins feature, although it operates a different way. Landing three or more scatters on the same spin during the base game will trigger this feature, with three scatters being worth eight free spins, and four scatters being worth sixteen. In this feature, all of the symbols on the extra reel are wild. Because wins can happen in Shogun of Time left to right or right to left, this hugely boosts your chances of winning lines appearing. This is, therefore, the most likely way for you to come away from this slot with a profit.
Both of the bonus features feel fresh and original, just as the slot as a whole does. Originality should always be applauded when it works well, and so we're putting our hands together for Just For The Win Gaming.
Shogun of Time Developer - Just For The Win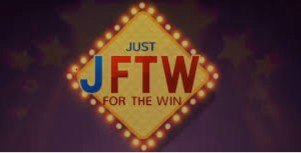 Sweden's Just For The Win studio hasn't been with us for long - they formed in the city of Gothenburg in 2016. At the time of formation, they had only twenty employees. That means they've come a very long way in a very short space of time to reach the point they're at now. It would take most brand new studios years to grow to a size where they can strike up agreements with major online casinos.
They've been helped along the way a little by partnering with larger developers and working in tandem with them. When putting together Shogun of Time, for example, they hooked up with Microgaming to bring it to the market. Microgaming have permitted Just For The Win to use their patented 'Quickfire' framing software to distribute their creations widely and easily.
As well as the slot we're reviewing today, Just For The Win have seen success with Reel Talent and Amazing Aztecs, both of which we host at UK Slot Games. We're big fans of this company's work, and we expect to be hosting even more of their brilliant creations in the near future.