Reel Talent UK Slot Game
Play Reel Talent at UK Slots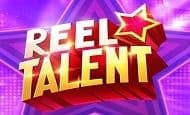 New Players Only. 65x Wagering. £250 Max Win. Full T&C's Apply
Reel Talent UK Slot
This is a five reel, three row online slot which sits somewhere between the genres of 'TV and Movies' and 'Animals'. There are 20 paylines, an RTP of 96.03%, and a maximum jackpot of 50x the initial stake. Showtime, Big Stage and Solo Performance bonuses are there to vary the gameplay up. The best place to play Reel Talent is here at UK Slot Games, where we also offer over 600 slot games, including 'Starburst', 'Rainbow Riches', 'Fluffy Favourites' and 'Bonanza'.
Hottest UK Slots
Very occasionally, when reviewing slot games, you encounter a game that's difficult to describe. That's rarely a bad thing; unusual games often mean that a developer has tried to do something unique and original. When you take into account that Reel Talent is made by Microgaming, who have made a business out of unusual online slots, you should immediately be reassured that you're going to get quality playing experience.
There are two inspirations working at the same time on this game. The first is the world of the TV talent show. Anybody who's seen the X-Factor will be familiar with the look and feel of the play area; there's a big stage for the performers on the background and a ranking system on the left hand side. There are plenty of musical instruments on the reels and in the scenery, and even the backing music is evocative of the 'tense' soundtrack that shows like the X-Factor use when the moment of judging arrives. There are surprisingly few slot games based on TV talent shows (other than ones with official licenses), so it makes for an interesting angle all on its own.
The second inspiration is the animal kingdom. If you think the two things don't seem to go together, you're right. All of the contestants on the fictional game show that is 'Reel Talent' have one thing in common; they're animals. Why? Who knows? It's surreal, but it does make for some memorable visuals, all of which are well realised.
Looking at the symbols, we have the traditional card values making up the lower values, beyond which is a torch, a microphone, a rabbit who can apparently do magic tricks (we suppose that's a unique take on a human magician pulling a rabbit out of a hat), a wolf playing guitar, an alligator who can breathe fire, and a singing lion. Maybe this is what the cast of the Lion King got up to when nobody was watching.
You won't miss the wild symbol; it's literally the word 'WILD' spelled out in giant gold block capitals. That will substitute for every other symbol on the reels, apart from the 'Reel Talent' logo. Five of those will instantly trigger the jackpot. Aside from that, there are no scatters. You might be wondering how the bonus modes could work if the game doesn't have any scatters, and the answer to that question is 'a little differently'. Let's get on with explaining them to you.
Bonus Features
The way bonuses work in Reel Talent are easily understood when you're playing, but a little harder to explain in writing. We'll do our best here, but the easiest way to find out would be to play the game yourself!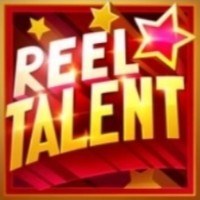 1. Multiplying Symbols: Every time you find a winning line in this game, two things happen. Firstly, you're awarded a free spin, and secondly, the symbol of your winning line will be moved to the 'ranking' system to the left hand side of the screen. There are three spaces on the ranking system. When it's full, one of the game's three bonus modes will begin. You only have three spins from winning your first symbol to fill the rankings; otherwise they're lost, and you have to start again.
The bonus mode you play depends on how many different types of symbol you have stored.
Showtime is the bonus that's awarded if you fill the rankings with three different symbols. You'll receive some free spins, with more of your winning symbols on the reels, which boosts your chances of finding a winning line.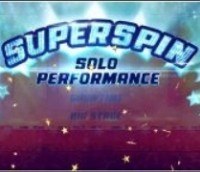 2. Big Stage: Big Stage is the same as the above, but happens when you store three winning symbols including two of a kind. You get more free spins, in which there will be more of whichever the dominant symbol (i.e. the one you landed two of) on the reels, meaning the chances of finding winning lines are dramatically increased.
Solo Performance is there all the big money is really to be won. To access this mode, you need to fill the rankings with three identical symbols. That will take you to a free spins feature where the majority of the symbols on the reels will be made up of your winning symbol. This guarantees at least a modest win, and hugely boosts your chances of a really big one. Getting access to this feature is the reason you'll want to keep playing!
Traditionalists may be put off by the fact that the game doesn't offer a standard free spins feature, or even any multipliers. That's fine. There are plenty of games out there which do, and you'll find hundreds right here on ukslotgames.com. Reel Talent, like so many of Microgaming's offerings, is different by design. Those players who want something a little different to their usual gaming experience will likely be pleased by what they find here. It may take a little getting used to, but the rewards make it all worthwhile.
Reel Talent Developer - Just For The Win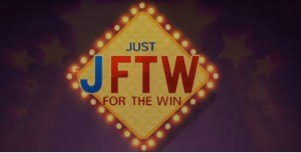 Microgaming describe themselves as an award winning (more on that in a moment) gaming software developer who supply customers all over the world. They've been in the business for a long time, and they claim it was them who developed the world's first 'true' software for online casinos all the way back in 1994, when the internet had barely been born. As if that wasn't enough, they also claim that they developed the world's first functional software for mobile casinos ten years later in 2004; again, that was right at the dawn of mobile gaming. That would make them a cutting edge market leader in the gaming world.
They're understandably proud of the success of Reel Talent, which they released in collaboration with another firm called 'Just For The Win', but they have plenty of other feathers to their cap, too. The Microgaming roster of online slots include Avalon, Dragonz and Thunderstruck. They also frequently win licenses from big film and TV companies to make their games, which is a sure sign of trust and reliability. The official Jurassic World and Game of Thrones slot games were made by Microgaming. The company has a long track record of releasing new games every single month.
The impressive achievements just keep coming the more you look into Microgaming. They're listed as holding a Guinness World Record; their progressive jackpot is the world's largest, and has so far paid out more than £800m; that also includes the largest jackpot payout ever seen in an online slot game, when a player in the UK won over £16,000 from a 25p spin!
As for the awards? Well, at the EGR B2B awards they've won 'Best Poker Software' for six of the past seven years. They were the iGaming 'Software Supplier Of The Year' for 2018. They won 'Best Digital Product' at the Global Gaming Awards in 2014, 2015 and 2016. In short, Microgaming are a big deal, with an incredible reputation for quality. When they release a game, people pay attention.
Reel Talent is a recent release for Microgaming, having hit the market in November 2018. They issued a press release when the game launched, in which their sense of excitement was palpable. The developer went on to say:-
"The spotlight is on and the stage is set for Reel Talent, a five-reel, 20 line online slot that features an eclectic group of talented performers battling it out for a spot on the big stage. Showcasing rich graphics, dazzling animations and exciting features in re-spins, Symbol Storage and Superspins, Reel Talent is brimming with thrilling gameplay to propel players into a world of fame and fortune.
This show-stopping game incorporates a Symbol Storage feature, which can be activated by any win in the base game. When activated, the symbol type from the winning line is collected in the Symbol Storage and a re-spin is awarded. When three symbols are accumulated during a game round, the player is given a Superspin for a shot at stardom on the main stage.
Reel Talent's Superspins feature will grant players the chance to wow the audience on three different stages, which will depend on the number of different symbols stored during base game. Three different symbol types will award the Showtime Superspin, two symbol types will unlock the Big Stage Superspin, and one type of symbol will activate the Solo Performance Superspin, a round that will fill the reels with only the stored symbol, granting players the chance to perform their way to epic rewards."
Microgaming, as you can see from the press release, make no attempt to explain why the performers on their stages are animals, but by this point we find them adorable, so we're fine with that.
Related UK Slot Games
There are none. If we were going to look specifically for games that feature animals in a TV talent show, we're not going to find any, and therefore this game would have no point of comparison. Our hat's off to Microgaming; it's not often say that something is truly unique in the market. Consider how many games are themed around sports, jewels, or Irish folklore, for imagine. Reel Talent stands completely alone in the online slot world in terms of genre, and there aren't many games that have comparable bonus features, either.
In time, the game may come to have sequels. It may even spawn a whole family of slots, all featuring the same talented animals we see in this release. However given how recently Reel Talent reached the market, it might be a while before anything like that happens. The developers will want to see how it performs first, and then base any decisions about sequels on that.
Despite all of the above, Microgaming have been down the route of singing animals before now, all the way back in March 2009.
The Rat Pack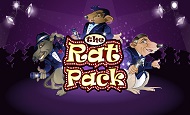 You don't have to have been born in the 30s to know who the Rat Pack were. Frank Sinatra, Sammy Davis Jr and Dean Martin were notorious in the 40s and 50s, and their nickname is as well known today as it was then. That explains why Microgaming used it to make a slot game themed around singing rats. The talent show format isn't there in this case, but it's still singing animals; and when it comes to trying to find comparisons for Reel Talent, this is as close as anybody's going to get. This is a five reel, four row slot with thirty paylines, and an RTP of 96.14%. The only real bonus feature is a free spins round, but it's a unique one. When you land a free spin symbol on the reels, it will nudge down one row at a time until it's out of view instead of instantly disappearing on the next spin. You could, if you wanted to, consider this game to be a test run for Reel Talent.
Similar Games
Again, there isn't much to discuss here. When a format is unique it's unique, and there's very little else like it to be found to play elsewhere. However, if the idea of animals in environments that they shouldn't be appeals to you as a fun idea for a game, we do have another title here at UK Slot Games that may appeal to you.
Foxin' Wins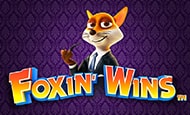 A little like Microgaming, NextGen Gaming have a reputation for developing online slots that are quirky and full of character. Foxin' Wins is no exception. It's a beautifully animated 3D game, featuring a very rich fox who wants to show you around his mansion, and give you the opportunity to win some money. Gameplay happens across five reels and three rows, with an RTP of 95.33%, 25 paylines and an excellent maximum jackpot of 2000x the original stake. Impressively for a game that's a few years old now, there are six bonus features, one of which involves chasing a leprechaun around. How did a leprechaun get into this slot? Nobody knows. But then nobody knows why animals are on a talent show in Reel Talent either, and that's part of the charm.
Mobile vs Laptop Gameplay
You would expect that any game released in 2018 would have been carefully tested on tablet and mobile devices before it was released to market. The mobile slot market is developing rapidly, and we may soon reach the point where there are more people playing slots that way than there are doing so through a computer. Some developers have even adopted a 'mobile first' mindset when it comes to developing new games.
Reel Talent works perfectly fine on a smart phone - if you play it the right way. In landscape mode, everything is seen and played in exactly the same way that it is on a laptop screen. The buttons are in the same place, the soundtrack is all there, and there's no difference in the game's mechanics whatsoever. We think there might be a very slight dip in the quality of the graphics, but not so much that it becomes distracting.
That all changes, though, when you flip your phone into portrait mode. Now, we know that most players play in landscape mode anyway, but there are those who don't, and they deserve to be accounted for just like everybody else does. Playing Reel Talent in portrait mode is a horrible experience. The playing area condenses and pixelates to the point where it's barely playable, and the buttons are rearranged in a manner where they somehow occupy half the screen, and yet are harder to use. In the current day and age, there's no reason this couldn't have been done better. Given the end product, it may have been better to force players to play in landscape mode, as some developers do, rather than issue such an obviously flawed portrait version.
In short, you're fine to play the game on a tablet or smart phone; just make sure you tilt your device to the side if you want to enjoy the experience!
Latest Reel Talent News
Because Reel Talent was released comparatively recently, there are several stories in both the mainstream and industry press covering the news of the game's release, along with some opinion on it.
Somehow, news of the game's launch turned up in the South Wales Argus (we suspect someone paid for placement here!), with the publication taking particular note of how the game spoofs and toys with the formats of TV talent shows. It concludes that the game is 'quirky, comical and entertaining', which is an assessment we can't disagree with.
CasinoBeats, which is an internet newsletter covering news and developments within the online slot world, also took note of Reel Talent's launch. They decline to give their own opinion on the game within their coverage, but do carry quotes from senior figures at both Microgaming and Just For The Win. Tiger Holmgren, who speaks for the latter, notes that the game contains their highest frequency of big wins to date. Given the scale of wins available within the bonus features, we're not surprised by that announcement.
Why Is UK Slot Games The Best Place To Play Reel Talent?
By now, you've hopefully realised that Reel Talent is a game like very few others. Anybody can make a deliberately weird graphical theme to make themselves stand out, but it's only worthwhile if the game backs it up. In this case, it does. The unique bonus features, along with the possibility of high payouts if you're able to master them, make this a pleasure to play, and often a very rewarding experience. If you're prepared to overlook the fact that the free spins and multipliers you may be used to aren't up for grabs here, it can be a thrilling step into the unknown. If you think you're ready for it, and you'd like to play the game, we'd love you to stay right here and play it at ukslotgames.com.
Not every online slot website is equal. There are some great ones out there, and some terrible ones too. We're of the opinion that we're one of the great ones, and here are the reasons why.
For a start, we have a hugely extensive range of slot games that the vast majority of websites could never hope to get near; we have over 600 popular slot games available for you play, and they're a carefully curated selection based on quality and fun. We have a range of different themes, and games of different difficulty, that should appeal to the new player and the experienced gamer alike. If you're bored of playing your usual slot game, there's always a new one for you to find on UK Slot Games.
Secondly, we don't force you to deposit money when you first sign up. Everybody is welcome to make an account, and you can then browse our entire catalog to find a game you really want to play before you hand over any money. Reel Talent is a fine place to start, but there's no reason to stop there! In fact, we do the opposite of forcing you to hand over money. When you sign up, you could win up to 500 free spins on our games just for doing so!
We like to keep giving you free spins, too. Every time you deposit £20 or more through our safe, secure PayPal processing method, you're eligible to win more free spins. On top of that, our players can receive up to 10% as a daily cash back incentive!
We're a friendly company who genuinely appreciates your custom, and want you to enjoy spending time with us. We're always looking for new ways to reward regular players and thank you for choosing us. A genuinely great product range with genuinely great incentives should mean happy customers; so in that way, you can consider it our job to make you happy. Come on in and let us show you!