Mighty Kong UK Slot Game
Play Mighty Kong at UK Slots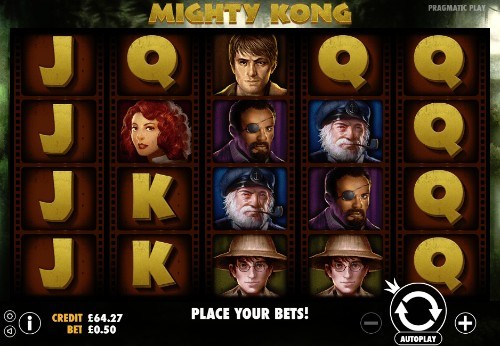 Mighty Kong UK Slot
This epic game takes place across five reels and four rows, with 50 paylines and a maximum jackpot of 1000x the initial stake. This game is themed around the legendary tale of King Kong, and belongs to the TV and Movie genre. A clever Free Spins feature is on offer within the game, and the best place to play it is here at UK Slot Games, where we also offer over 600 slot games, including 'Starburst', 'Rainbow Riches', 'Fluffy Favourites' and 'Bonanza'.
Hottest UK Slots
Everybody knows the story of King Kong, the giant ape that visited New York and nearly destroyed the city. Even if you've never seen a single one of the multiple movies about the great ape, it's a tale that we're all familiar with. Like Robin Hood or the Loch Ness Monster, it's a legend that transcends all of time, and people will probably still be making movies about it a hundred years from now. Only Godzilla could possibly claim to be as big a deal when it comes to movie monsters.
If, somehow, you've managed to make it all the way through your life to today without ever encountering the story, we'll give you the headlines. King Kong was a giant ape who lived on the mythical Skull Island. He was captured and brought to New York as an attraction, but the ape couldn't be contained or controlled by humans, and he eventually escaped and climbed to the top of the Empire State building, wrecking everything in his sight before finally plummeting to his doom. This Pragmatic Play game takes the story, and builds an online slot around it. They've done an excellent job.
Although we can't see any sign that this is an 'official' tie-in to any of the movies, it's one of the most atmospheric and cinematic slot games you could ever hope to play. It's dark, it's moody and it's beautiful. Atmospheric tribal drums accompany you throughout the playing experience, and just to drive home the fact that the developers want you to be thinking about the movie as you play, the expansive play area of five reels and four rows is actually set on reels of film. Beyond those reels, you can make out the scenery of Skull Island, including waterfalls and exotic plant life.
The lower values on the symbols are taken up by the traditional playing card symbols running from 10 through to A. Above them are the human characters from the best-known movies about the story; namely Jack Driscoll, Carl Denham, Captain Engelhorn and Ann Darrow. All of them are beautifully rendered, although one of them bears a passing resemblance to Harry Potter!
The wild symbol is easy to spot; it's just the word 'WILD' in bold, yellow type. It substitutes for any other symbol on the reels to form winning lines, with the exception of the scatter symbol. The scatter symbol is, of course, King Kong himself. He looks like he's in a bad mood when you see him, wearing a definite frown and with red eyes, but you should be pleased to see him, because he provides access to the game's bonus feature.
Bonus Features
There are two competing philosophies when it comes to adding bonus features to slot games. On the one hand, some developers like to load their titles full of many different bonus round and features because it makes their games unique and interesting, and keeps players interested. Other developers like to offer one or two bonus features, but do them so well that players don't really need anything else. When making Mighty Kong, Pragmatic Play have gone with the second approach, and it works really well. There's only really one bonus feature, although the wilds can do you favours, too.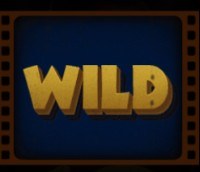 2. Expanding Wilds: Expanding Wilds exist in this game. If you land a wild symbol on the third reel, it will expand and fill every position on that reel so long as winning combinations are possible. It's not so much a bonus feature in that it doesn't lead you on to any different games or rounds, but it's a way of getting more payouts, and it's a nice little perk.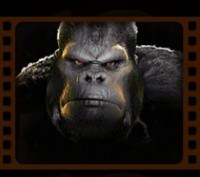 1. Free Spins: Free Spins are where this game really comes alive; and we mean that almost literally. Finding three or more of the King Kong scatter symbol triggers the mode, and you won't miss it happening. The ape himself will appear on your reels, beat his chest and come charging at the screen! When he does, everything will go dark for a second, and then you'll be transported to the interior of a cinema. The cinema screen offers you a number of options for your free spins round, and the choice is one of quantity versus quality.
You have a free choice of four different free spins options. If you just want to keep on spinning, you can have forty free spins with no multiplier. Alternatively, you could take thirteen free spins, during which all wins are trebled. If that's not enough for you, you might prefer eight free spins, during which all wins are multiplied by five. Finally, if you're feeling lucky and really want to push the boat out, you can have five free spins, during which all your wins are multiplied by a factor of eight! Do you prefer slow and steady, or short and sharp? It's all up to you! In even better news, finding more scatter symbols during your free spins re-triggers the round.
Mighty Kong Developer - Pragmatic Play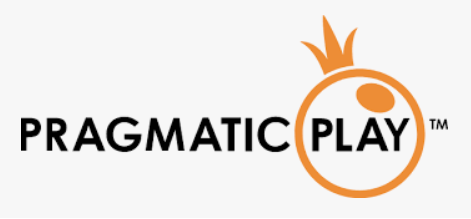 A quick look at the gaming portfolio of Pragmatic Play, who were founded in 2007, tells you that they're a design company with a theme; all of their games have a definite visual feel to them, and many of them use the old West as a setting. They have over 100 games on their roster, the highlights of which include Wolf Gold, Gold Rush, da Vinci's Treasure, Great Rhino, Madame Destiny and Peking Luck.
The company themselves are big players in the iGaming sector, creating not just online slots but also bingo, live casino games and digital scratchcards. All of their games are entirely developed in house, and they advertise themselves as having a 'mobile first' mindset; this is a company who are very much aware that more and more gamers are turning to the mobile format of games, and so they design with the mobile experience first in their minds, and the laptop experience second. That could well be the way of the future.
Those with a technical mindset might be interested to know that they exclusively use HTML5 to code their games, which is a versatile language and means that their games should work seamlessly across any platform. The company's manta is 'innovation and dedication', and they pledge two release two new titles every month without fail, which is a prolific output in the modern age. Pragmatic Play can point to the fact that they have customers in 80 different countries as evidence that they're truly a global company.
Writing about the game on their own website, Pragmatic Play say:-
"Attack the giant gorilla in his own lair in Mighty Kong, the 4x5, 50 lines video-slot. If WILD is on the middle reel it expands to fill the whole reel and when you get the chance to meet Mighty Kong himself, he will take you on journey around the world in the Free Spins round, where you can select up to 40 Free Spins and up to 8x multiplier."
They keep the description short and to the point, but they tell you everything you need to know about the game whilst doing so. The free spins feature really is great, and meeting the gorilla is definitely worth your time - even if he terrifies you by charging headlong at the screen!
Related UK Slot Games
King Kong is one of the best known characters anywhere in the world of entertainment. There have been no shortage of movies based on him, no shortage of books based on him, and yes, no shortage of slot games based on him either. However few developers dedicate more than one game to him, and Pragmatic Play are no different. Having released Mighty Kong back in 2016, they probably consider themselves to be done with the idea, and have moved on to other things. That's not to say that they don't have other great games based around mighty beats, though.
Great Rhino
If atmospheric games based on giant, scary animals is your thing, then you'll probably enjoy Great Rhino as much as you enjoy Mighty Kong. This 3x5 slot has 20 paylines, and so is a smaller game than Mighty Kong with fewer ways to win, but the 'Stampede' bonus round is a thing to behold. Whilst you wouldn't normally want to get in the way of stampeding rhinos, the more you can find in this game, the better. Fill the reels with them and you could win a huge jackpot! RTP in Great Rhino is 96.53%. It might not be quite as epic in scale as Mighty Kong, but it's still a great game.
Jurassic Giants
If gigantic apes aren't scary enough for you, maybe full sized dinosaurs will do the trick? The giant lizards of the prehistoric world are brought back to life in this game, and it's big enough to do justice to its subject matter. The playing area is huge, with six reels and four rows, giving a massive 4096 ways to win. The bonus feature focuses on a battle between a T-Rex and a woolly mammoth, and offers up to 250 free spins with an RTP of 96.03%. It definitely has the cinematic feel of Mighty Kong, but the sheer number of reels, rows and lines might be a little too much for some players.
7 Monkeys
If Jurassic Giants takes things up a notch from Mighty Kong, 7 Monkeys takes them down again. Monkeys are slightly more lovable apes than gorillas, and less of a concern if they run at you! This is a smaller and more gentle game, with only 7 paying lines and a reduced number of symbols to keep things simple. There aren't a huge number of extra features, but 150 free spins are on offer to lucky players. RTP is also turned down from Mighty Kong in this game, coming in at 92.71%.
Similar Slots to Mighty Kong
Pragmatic Play may only have one King Kong themed game, but there are other takes on the legend on offer from other developers. Have any of them done as well as Pragmatic Play? Let's take a look.
King Kong
This game from NextGen is older than Mighty Kong, and is a directly licensed product. Specifically, it takes all its themes and imagery from the 1933 movie. It's not anywhere near Mighty Kong in terms of graphical quality, but as its visuals are based on a film that's so old, that doesn't really matter. There's a great mini-game where you play as King Kong himself, swiping at passing planes and getting multipliers as a reward. The game offers 25 paylines, and an RTP of 95.14%, so it's not quite as generous as Mighty Kong and doesn't offer as many ways to win. It's still fun just for the bonus features though.
King Kong Fury
Perhaps aware that their first King Kong game was looking a little old, NextGen paid a second visit to the theme in 2018, and came up with something closer to Mighty Kong. The expanded 5x4 playing area is a closer match for the Pragmatic Play game, and the graphics have definitely benefited from an update. 50 paylines are also a match for Mighty Kong, although the RTP Is still lower at 95.37%. Free spins and additional wilds account for this online slot's bonus features, and for some reason the game features dinosaurs as well as the great ape. It feels like a crossover film!
Gorilla Go Wild
Make it a hat trick for NextGen! If you do like gorillas, but King Kong is just too fierce for you, then this cuter game might be more up your street. We're happy to offer it to players at ukslotgames.com. This is a more traditional offering; a 5x3 layout with 25 paylines and at RTP that ranges between 92.06% and 96.51% dependant upon what your stake is, and how you choose to play the game. It's adorable to look at, and has six separate bonus features to give you a truly varied playing experience. Our favourite one involves Gary, the game's star Gorilla, grabbing a banana to eat from the reels at random and winning you a prize in the process!
Gameplay On Mobile vs Laptop
Mighty Kong may not be brand new, but as it was released in 2016 it's still comfortably within the time where you should expect that a mobile version of the game was developed at the same time as the desktop version. This is doubly true when it comes to any game developed by Pragmatic Play, who pride themselves on the quality of their mobile games, and even work on a 'mobile first' philosophy. So have they been as good as their word? Is this game as much fun to play on your hand-held device as it is on your usual computer?
Yes, it is. Pragmatic Play have done a truly excellent job of making this game just as much fun, no matter what device you play it on. Crucially, the size of the reels doesn't change no matter whether you play the game in landscape mode, or in portrait mode. Turn the screen around, and the buttons will relocate themselves In a way that stays intuitive, without getting in the way of the reels. In portrait mode, the game's logo is displayed at the top, and more of the background is visible at the bottom. Flip your phone around, and these extra areas simply disappear, leaving the play area unaffected. The quality of animation, picture and sound is exactly the same as it is when playing on your laptop.
Pragmatic Play ask for the benchmark to be high for their mobile slots purely from the way they describe themselves, but more often than not, they meet the mark. It's entirely possible that this game was designed and tested on phones and tablets before it was moved across to laptops and desktops, and the result is a game that's easy and fun to play on any device. We're very impressed with it!
Latest Mighty Kong News
It's been a couple of years since Mighty Kong was released, and so the initial press coverage that came with the game's launch has died down. The gaming industry moves on quickly, and the focus of the industry press is always on the next big thing. In some ways Pragmatic Play are victims of their own success here; they release quality new games so often that their older releases stop receiving attention!
Just because Mighty Kong isn't currently in the news doesn't mean it's not worthy of your consideration. It's a fantastic game that's been out a couple of years, and so much like a hit movie from two or three years ago, it's a quality product that's still out there waiting for new viewers to find it. It's been one of the developer's more popular offerings, and the quality of this slot game speaks for itself, even if the press have gone a little quiet on the subject.
Why Is UK Slot Games The Best Place To Play Mighty Kong?
Thanks for taking the time to read our review of Mighty Kong. What we really want you to understand about it is that it's a game that's epic in scale, easy to play, and does a lot with the one bonus feature that it offers. You won't play many better looking or more cinematic online slots than this. If you've read everything we have to say about it, and you're now feeling the call of the wild, that's great! We're confident you'll enjoy the game, and we'd be really happy if you stayed here and played it with us on ukslotgames.com.
We're a friendly company who genuinely appreciates your custom, and want you to enjoy spending time with us. We're always looking for new ways to reward regular players and thank you for choosing us. A genuinely great product range with genuinely great incentives should mean happy customers; so in that way, you can consider it our job to make you happy. Come on in and let us show you!
*All values (Bet Levels, Maximum Wins etc.) mentioned in relation to this slot game are subject to change at any time.
New players only, £10 min fund, £200 max bonus, max bonus conversion equal to lifetime deposits (up to £250), 65x wagering requirements and T&Cs apply.