Legend of Cleopatra UK Slot Game
Play Legends of Cleopatra at UK Slots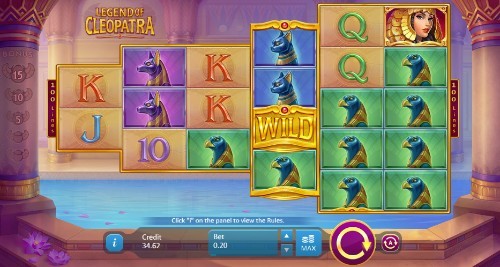 Legends of Cleopatra UK Slot
Playson present an online slot that truly feels different. Set within the Action & Adventure genre, and using the legends of Ancient Egypt as a backdrop, this game has an unusual structure of six reels and a variable number of rows, offering 100 paylines and an RTP of 95.05%. Free Spins and Double Wild bonus features are on offer, too. The best place to play the game is here at UK Slot Games, where we also offer over 600 slot games, including 'Starburst', 'Rainbow Riches', 'Fluffy Favourites' and 'Bonanza'.
Hottest UK Slots
Playson are an interesting developer. Whilst much of their range seems to be based around traditional genres; especially old-fashioned fruit machines, when they do go for an original title, they try to make it as unique and interesting as possible. When it comes to Legend of Cleopatra, which was released in January 2018, they've really gone the extra mile with originality.
There's nothing especially original with using Ancient Egypt as a theme. Many slot games have done it, and there are even other slot games which directly use Cleopatra as their inspiration, as this one does. There's nothing wrong with that; other than Tutankhamen, she's probably the best known of all of Egypt's historical figures. She may never have looked as attractive as she does here, either. The game appears to be set in her private bathroom, and there's something a little provocative about her pose as the game loads up. That's understandable; legend has it that Cleopatra bathed in milk to preserve her beauty. She seems to be in plain old water here, but there's no mistaking her beauty either way.
The most remarkable thing about the layout, which you'll notice straight away, is the unusual structure of the reels. First off, there are six of them, which is a novelty in itself. Secondly, the number of rows increases on each reel. There are two on the first, three on the second, four on the third, five on the fourth, and then six on the final two. That can be a little unsettling to see if you've never come across anything like it before. You might also think it must limit the number of winning lines, but it doesn't. The winning lines branch out from one to the next, and some of the bonus features actually use the layout to your own advantage, but more on that later. The layout may be easier to play than to explain, and so we recommend trying it out for yourself. We promise that it isn't as complicated as it might appear at first.
On the reels, you'll find a number of symbols that are appropriate for Ancient Egypt, and of course Cleopatra herself. The playing card symbols 10 through to A account for the lower values. Above them are three different animal headed Gods which will be familiar to anybody who has studied Egyptian mythology. They represent Anubis, Bast, and Horus. Cleopatra herself, and the 'Legend of Cleopatra' logo, are the two highest value symbols here.
You won't miss the wild symbol; it's gold, and has 'WILD' printed on it in giant letters. That will substitute for any other symbol on the reels to make winning lines, with the exception of the scatter symbol. You won't miss that one either; it's bright blue and says 'SCATTER'! An appropriate backing track of Egyptian themed music will accompany you as you play, and attempt to trigger the game's attractive bonus features. Let's have a look at them in more detail.
Bonus Features
There are two primary bonus features in Legend of Cleopatra, which are triggered in different ways from the base game. As you might expect, you'll want to keep an eye on both the scatter and wild symbols, because those are your triggers.
1. Free Spins: Free Spins is the game's bonus. Three or more of the scatter symbols will trigger this mode, with more spins available depending on how many of the symbols you find. Three scatters get you five free spins. Four scatters will give you ten. Five scatters will get you fifteen free spins, as well as triggering an instant cash prize. During the free spins rounds, the order of the rows reverses, shifting the five row reels to the left hand side of the playing area and giving you a vastly boosted chance of finding winning lines. As an added bonus, your free spins can re-trigger as many as fifty times in a row if you consistently find two or more additional scatter symbols during your free spins.
2. Double Wilds: Double Wilds is an interesting take on a wild-based bonus. When you stack any reel full of wilds; which is obviously easier on the reels featuring two or three rows than it is with the ones featuring five or six, a second reel will be selected at random and also stacked full of wilds. With two stacked wild reels active, your chances of finding a winning line are significantly improved.
Neither of these two bonus modes would be especially remarkable in their own right, but due to the unique layout that the game offers, they can produce great results. This is an interesting and unique game to play, and it puts its unique features front and centre of the gaming experience.
Legends of Cleopatra Developer - Playson
Playson are still a comparatively new company within the world of online slot developers. Based out in Malta, they were set up in 2012, but have expanded rapidly in their few years of operations. Today, they have offices in a number of major countries throughout the world, and are the employers of a workforce that numbers several hundred.
Their growth has been boosted in the past three years in particular; they weren't granted a license to operate within the UK until 2015, but having finally obtained one they've worked quickly to cater to the vast market within the United Kingdom.
At the time of writing, they've developed and brought to market over forty slot games, with several more in development, and production appearing to be accelerating as they take on more staff. They make no secrets of the games they're most proud of either; a quick look at the 'About Us' page of their website reveals that they have a special section dedicated to what they consider to be their best offerings. For the record, they're Crystal Crush, Lucky Staxx, Wild Warriors, Fruits & Jokers, Book of Gold, Phoenix Fire, Claws vs Paws, Legend of Cleopatra and Crystal Land. Legend of Cleopatra in particular is the game that Playson are currently best known for.
Whilst online slots are definitely the company's main focus, they do also venture into other casino staples, such as blackjack and roulette, for which they provide physical machines to casinos. They've also been known to work with other developers to boost their reputation as they fight to establish themselves; past collaborations have included co-launched games with 1x2 Gaming and Pariplay.
Promoting the game on their own website, Playson say:-
"Have you heard the stories about Cleopatra? No? Then you just must try Legend of Cleopatra slot.
It will tell you how to make all 100 bet lines pay Big Win on the pyramid-type reels.
During Free Spins with mirrored reels you will bathe together with the pharaoh herself. And maybe Cleopatra will reveal a secret to Double Wild Reel. Pharaoh is not greedy, so she will share some of her riches with you if you are brave enough to take them!"
Whilst the game doesn't actually offer you the chance to bathe with Cleopatra, it does offer you at least a glimpse of her riches, so keep yourself dry and focus on spinning the reels instead!
Related UK Slot Games
As we've already mentioned, Ancient Egypt is a popular choice for slot developers. There's something about the beauty and allure of that lost and mysterious world which speaks to all of us, and inspires wonder. We'll probably never tire of it as a backdrop, and so developers will continue making online slots to fit the theme.
When we look for similar or related games, the first place we check is the developer of the game we're reviewing, to see if they've released a sequel to the game we're reviewing, or another game that belongs in the same family. Although Playson are probably still better known for their fruit-themed games than they are for anything else, they have used the Egyptian theme for other titles before.
Rise of Egypt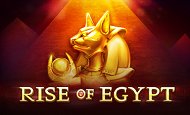 A more traditional take on a slot game, using much of the same imagery as Legend of Cleopatra, but set on a standard five reel, three row layout. The theme is more focused on Egypt itself than anyone who lived in it, with the pyramids and the symbolism more central than any of the great Pharaohs. One thing it does have in common with Legend of Cleopatra is the idea of wilds expanding to cover two reels. RTP is 95.82%. This isn't as unique a game as Legend of Cleopatra, but if you find Legend of Cleopatra to be too complex, you may prefer this alternative.
Kingdom of The Sun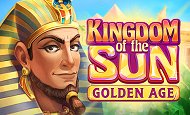 Kingdom of The Sun and its legends aren't mentioned in the title, this game's inspiration is clear from the moment you load it up and see a smiling Pharaoh on the reels. This may be a fairly simple looking slot, but it contains an interesting compass themed bonus feature, which depending on the direction of the compass, travels across the reels and turns lower value symbols into higher value ones. It's still not as innovative as Legend of Cleopatra, but it sits somewhere between that and Rise of Egypt in terms of originality, and makes for a nice compromise option. RTP is 95.29%.
Fruits of The Nile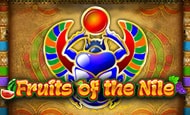 This game combines two of Playson's apparent preferred themes; Egypt and fruit-based games. In truth, this is another of their fruit-themed offerings, which just uses a vaguely Egyptian backdrop to add to the theme, and a little Egyptian themed music to go with it, as well as a scarab symbol to act as a wild. It's a comparatively basic game, offering only five paylines and a limited number of symbols. If you're looking for a more relaxed, laid back game in comparison to Legend of Cleopatra, this might be one for you. RTP is 95.37%.
Similar Games
Nobody has the right to say they came up with the idea of basing games around Ancient Egypt - except possibly the Egyptians - and so it would be harsh to say that any one Egyptian themed online slot is a copy of any other. There are a huge number of Egyptian themed games out there, and here are some of the better ones. We're happy to offer them to play here at ukslotgames.com.
Ancient Egypt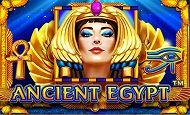 Pragmatic Play have made historic-themed games their calling card, and so of course that means they have an offering based around Ancient Egypt. They've even made it literal with the title! This is a sleek, good looking game with modern graphics, and a figure who looks remarkably like Elizabeth Taylor playing Cleopatra on the reels. It's a 5x3 game with only ten paylines, but a couple of interesting bonus features that can boost your winnings, as you'd expect of a Pragmatic Play title. RTP comes in at 96.13%.
Caravan To Cairo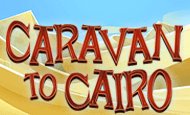 If you know online slots, you'll know that Eyecon's calling card is making adorable, cartoonish games featuring cuddly creatures and lovable animals. That's exactly what they've done with Caravan to Cairo, which uses Egypt as a backdrop, but really focuses on its own comic creations to give the game its appeal. There are an impressive 243 ways to win, and a great free spins feature, with an RTP of 95.20%. It won't appeal to those who particularly enjoy the historical theme of Legend of Cleopatra, but animal lovers will be big fans.
pharaoh's Luck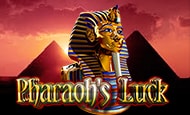 Perhaps sensing that their other Egyptian offering wouldn't appeal to everybody, Eyecon have an alternative in the shape of Pharaoh's Luck. Gone are the cuddly animals, and in their place are golden masks and iconic symbols and hieroglyphs. This is a comparatively simple game, with a prize-picker bonus round, as well as the ability to gamble your most recent win on a double-or-nothing round. It's not hugely original, but it's a solid enough game with an RTP of 95%.
Gameplay On Mobile vs Laptop
As with any game that's been released from 2018 onwards, the minimum any gamer should expect is for their favourite online slot to be as playable on a hand-held device as it is on their laptop or desktop. Mobile slot games are a boom industry, and in a few years time we'll likely find more people playing on their smart phones than there are sat at computers. Every developer owes it to themselves to ensure their games can be enjoyed in this way.
The good news for fans of Legend of Cleopatra is that it can. So long as you keep your device in landscape mode, everything is translated perfectly. It looks the same, it feels the same, the sounds are the same, and all the buttons are easy to find without getting in the way of the playing experience. It's a perfect experience.
Things aren't quite as sharp if you prefer to play in portrait mode. We're aware that most players don't, but it's nice to have the option, and most developers do attempt to allow for it. Playson have tried, although the result isn't too pretty. All of the reels are compressed into the top half of the screen, which isn't ideal when you're dealing with an unusual reel format, and you need to be able to pick out what's where. The bottom half of the screen is given entirely over to the buttons, which is needless and feels like wasted space.
You'll enjoy Legend of Cleopatra just fine on your tablet or smart phone, just so long as you keep it in landscape mode!
Latest Legends of Cleopatra News
Not every slot game that launches gets the benefit of expansive press coverage. Whether it's the mainstream press or the industry press, some titles seem to capture the imagination and others doesn't, without any real rhyme or reason. Legend of Cleopatra doesn't seem to have garnered the sort of attention it deserved for such an original and unique game. It may not have helped that Playson are still a growing developer, and aren't currently seen on the same level as some of the industry's major players.
That doesn't mean that nobody was paying any attention at all, though. Casinopedia, which describes itself as the largest online casino resource website anywhere in the world, picked up on the unique nature of Legend of Cleopatra shortly after it was launched, and was particularly impressed by its original content. In their article, they note that the Egyptian themed market is already heavily saturated, and that it takes a real gem of a game to stand out. Despite that, they feel that the Playson offering more than manages to hold its own, reserving special praise for the free spins feature and the handsome rewards that come with it.
Why Is UK Slot Games The Best Place To Play Legends of Cleopatra?
We realised when writing this review that we won't be able to convince everyone to play Legend of Cleopatra. It's an unusual game with unusual features, and it might just be too far away from the normal slot game conventions for some players. That's fine, we have plenty of other games for you to play, and we're confident you'll find something that's perfect for you! If, on the other hands, you've been looking for a fresh twist on your slot game experience, Legend of Cleopatra might be the ideal way to scratch that itch. Of course, the best way to find out for sure is to play the game yourself. If you're ready to do that, we'd love you to stay here on ukslotgames.com and play it with us.
We're a friendly company who genuinely appreciates your custom, and want you to enjoy spending time with us. We're always looking for new ways to reward regular players and thank you for choosing us. A genuinely great product range with genuinely great incentives should mean happy customers; so in that way, you can consider it our job to make you happy. Come on in and let us show you!
*All values (Bet Levels, Maximum Wins etc.) mentioned in relation to this slot game are subject to change at any time.
New players only, £10 min fund, £200 max bonus, max bonus conversion equal to lifetime deposits (up to £250), 65x wagering requirements and T&Cs apply.