Kongo Bongo UK Slot Game
Play Kongo Bongo at UK Slots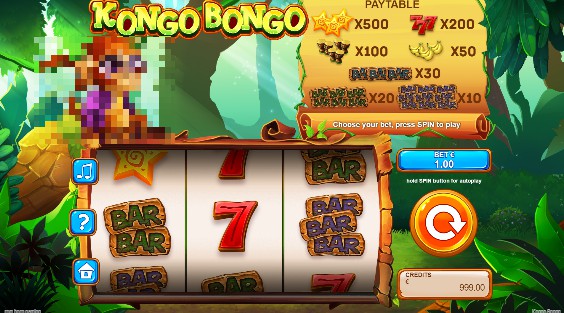 New Players Only. 65x Wagering. £250 Max Win. Full T&C's Apply
Kongo Bongo UK Slot
UK Slot Games is proud to present Tom Horn Gaming's adorable 2019 online slot game Kongo Bongo. While we have hosted some pretty cute online slot games before, none have quite matched the same level as charm as this 3x1 reel slot game. While 3x1 reel online slot games aren't all too popular in 2019, we have a fairly good feeling that they're going to make a comeback thanks to Kongo Bongo.
Hottest UK Slots
Kongo Bongo is the perfect slot game for players who are looking for the simplest possible gaming experience, each time you spin the reels your eyes won't need to dart all across the reels to see if you have made a winning line. Instead, you'll just have to watch out for three winning symbols in a row.
There is little more to Kongo Bongo than the main base game, but the infinitely endearing online slot is still sure to attract plenty of loyal players. Kongo Bongo is a jungle-themed online slot game which uses a charming spider monkey as the starring character of the show. You'll see him sat atop of the reel set, generally looking fairly aloof, but we're sure that he's cheering you on really!
Kongo Bongo comes highly recommended to any new players on UK slots Games, online slot games really don't get much more simple than this. Usually, simplicity comes hand in hand with outdated designs modelled on traditional fruit machines. Yet, Tom Horn Gaming have realised that there's no harm in putting a little bit of colour and character into a simple slot game. It is safe to say that we've never seen anything like Kongo Bongo.
The RTP is 96.07%, which is only a fraction over the average RTP of 96%, but we still appreciate that little extra all the same, but you'll need to be wary of the volatility of this online slot game. While the payouts aren't all that frequent, they are fairly substantial! It isn't impossible to maintain your bankroll here, but you may need to be mindful, especially if you are only planning on playing for a couple of spins.
The max jackpot sits at a very generous £80,000 which can be yours if you use the max bet amount which is £100. Even if players opt for the lowest betting amount of 10p, that still means that there are 800x multipliers up for grabs in Kongo Bongo!
You may need some time to adjust to the gameplay in Kongo Bongo if you usually spin with larger sets of reels, but it won't be long until you realise that the online slot can be just as enthralling. The lack of rows can also work in your favour too! Usually, with 5x3 or 5x4 reel online slot games, your stake will be split across bet lines, however, with Kongo Bongo, you'll see that your rewards are higher because the stake isn't split! Whatever your total stake is, is what will be boosted every time you create a winning line. 
Usually, with online slot games, you need to do a fair amount of digging to find the paytable info, but Tom Horn Gaming have made every aspect about playing Kongo Bongo easy, on top of the reel set on the right you will find a paytable which lets you know what multipliers can come your way by matching certain symbols.
The number of paying symbols has been kept to a minimum in Kongo Bongo, there are 7 in total, and in order of the highest paying to the lowest they include, gold stars, lucky red sevens, bongos, bananas, and 3 different colour BAR symbols (the BAR symbols which you'd find on a traditionally themed online slot game).
The lowest winning line in Kongo Bongo is worth 10x your stake, whereas the highest valued winning line can be worth 800x your stake. However, the size of the multiplier can change in Kongo Bongo. If you're spinning with a small stake, you could only receive a 500x multiplier when you get three of the gold stars on the reels. So, it definitely pays to bet higher in Kongo Bongo.
While a 500x multiplier is definitely generous, it seems unfair to give better perks to the high rolling players. Yet, there really aren't all too many online slot games which offer a 500x in the main mode of play.
The generosity of the payouts also gives you plenty of ideas about how often you will be able to expect them. As the minimum line win is a 10x multiplier, it would be unrealistic to expect payouts more frequently than 1 in 10.
Game Bonus Features
Given the modern aesthetic of Kongo Bongo, you would expect it to offer a bonus feature or two such as free spins or a re-spin bonus feature and a few reel modifiers, but Tom Horn Gaming chose to create an online slot game void of any bonus perks at all.
While this won't be to the delight of all of our players at UK Slot Games, plenty of our players love simple sit and spin experiences – especially when there are 800x multipliers to play for, and it is as simple as creating a winning line of three high paying symbols!
However, you choose to load up the reels on Kongo Bongo, you can be sure that you'll be treated to a visual treat, and plenty of incredibly generous rewards – it's well worth a spin, even just for the graphics and animations alone.

Kongo Bongo Developer - Tom Horn Gaming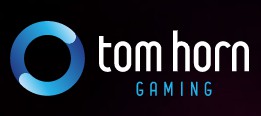 Tom Horn Gaming has been creating online slot games since 2008, since then, they've created over 90 online slot game titles. While their games may not all be as cute as Kongo Bongo, there's plenty of diversity in their portfolio. You'll find most of their popular online slot games right here on UK Slot Games, our players can't get enough of Sherlock: A Scandal in Bohemia Online Slot, Wild Weather, Frozen Queen UK Slot, Dragon Riches, and Inca's Treasure.