Fireworks Frenzy UK Slot Game
Play Fireworks Frenzy at UK Slots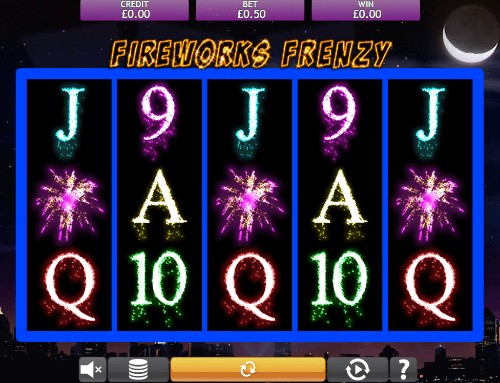 Fireworks Frenzy UK Slot
Eyecon brings us this festival-themed slot, which is all about big, beautiful fireworks. Play happens on a five-by-three reel and row layout, giving you twenty-five paylines to look for and two bonus features to add variation to your game. The RTP rate of this slot is 94.94%. This attractive slot is available to players here at UK Slot Games as part of our huge range of online slots. We have over 500 to choose from including Great Rhino, Starburst, Rainbow Riches and Bonanza.
Hottest UK Slots
There's never really a bad time for a fireworks part, but you're most likely to see the skies full of colorful explosions on New Year's Eve, Chinese New Year, Scottish Hogmanay or Guy Fawkes night in the UK. If you're an American, you might also use them to celebrate Independence Day on the 4th of July. Sporting events make great use of them as well, as do some rock concerts and festivals. Fireworks are generally used to mark celebrations, and allow us to experience the thrill of big explosions without worrying about being in too much danger. They bring color to the skies and make us all feel like we're young again.
Because they're such a simple and yet attractive thing, it's a little surprising that more slot games and slot developers haven't put them to use in the past as a theme. We can always rely on Eyecon to do great things with themes though, and it's them who have come up with Fireworks Frenzy. This isn't one of Eyecon's newer slots - it's actually quite a veteran - but the passing of the years hasn't done anything to diminish the sense of fun that this slot brings to the table. It's not the most complex, and it isn't an HD-era ultra-slick video slot, but it's charming and entertaining. Simplicity done well is always welcome at UK Slot Games.
There was no need for Eyecon to make the visuals of this slot too complicated. When people go to see fireworks, they're interested in what's in the sky far more than what's on the ground. Accordingly, Eyecon has given us the basic background and framing of a clear, moonlight night sky above a row of rooftops. All the color comes from the firework-themed symbols, and they're drawn realistically. Playing this slot is like going to a fireworks party you can win money from. What could be better than that?
In keeping with the simple presentation of this slot, there are only a limited number of symbols. The traditional playing cards are here, represented by 9, 10, J, Q, K, and A, and they're the symbols of least worth. Three more valuable symbols exist beyond them; rockets, a yellow firework explosion and an even bigger and more colorful firework in the shape of a starburst.
The slot has a wild which is represented by a Catherine wheel. That can replace any of the basic symbols to create paylines. The exception to that rule is the Fireworks Frenzy scatter symbol, which is depicted as Chinese crackers.
Before we move on to look at the bonus features, we should mention that any winning line which is made using a wild trebles in value. That's a nice touch!
Game Bonus Features
Standing back and watching fireworks should be good, clean, simple fun. Eyecon have tried to stay as close to that mood and atmosphere as possible. Just as the base game is comparatively simple, so are the bonus features. There are only two of them, and they're both features which you might be familiar with if you've played Eyecon slots in the past.
First up is Eyecon's take on the Gamble Feature. You can use this feature any time you score any winnings. The gamble feature enables you to stake those winnings on a 50/50 bet, in which you're presented with two options and asked to choose one. It's like flipping a coin and choosing heads or tales. If you make the right choice, your winnings will double. Make the wrong one, though, and you've lost them. Easy come, easy go!
The slot's second bonus feature is a Free Spins round, which comes complete with Expanding Wilds just to make things a little more exciting. This feature is triggered by landing three or more of the Chinese cracker scatter symbols anywhere in view on one spin. Three of the scatters rewards you with fifteen free spins. Four will bring you twenty free spins, and the maximum is twenty-five for finding all five scatters at the same time. If you find a wild during one of your free spins, it will expand to cover whichever reel it lands on. That's good for bringing you extra wins, but it's also great because the wild will still treble the value of your winnings, just as it does in the base game!
The bonus features aren't exceptional or unusual, and similar features can be found in many slots from both Eyecon and other developers. Fifteen is still a good number of free spins as a minimum reward though, and the laid-back style of this slot gives you a chance just to sit back, watch the fireworks and hope for the money to roll in. This is a simple, relaxing slot game which won't demand too much from you.
Fireworks Frenzy Developer - NetEnt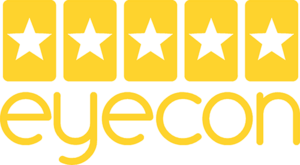 Eyecon seems to work to the motto of 'make less, but play longer.' Some developers have been open for less than half the time Eyecon have, but have released twice as many slots. Eyecon isn't concerned by that, though. They focus on developing slots that will be enjoyed by players for years, which puts less demand on them to come up with new titles all the time. They're so successful at this that their first ever slot - 2003's Temple of Iris - is still online and enjoyed by thousands of players every month. So many players go straight to Eyecon to play their favorite slots that the reels on Eyecon's slot games are spun an average of 11,500 times per minute. That's an almost unimaginably high level of usage!
The developer, who is based in Australia, is probably best known as the creators of the Fluffy Favourites series of online slots. The stuffed-toy themed series started with the original in 2006 and became wildly popular almost overnight. Like the fireworks in this slot, the cuddly toys in the slot captured the sense of nostalgia within players, who fell in love with it. They've released several follow-ups to the original slot, many of which are available here at UK Slot Games - as is the original.
All values (Bet Levels, Maximum Wins etc.) mentioned in relation to this slot game are subject to change at any time.