Christmas Deal UK Slot Game
Play Christmas Deal at UK Slots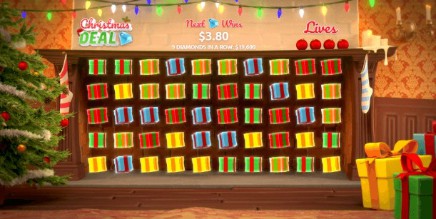 Christmas Deal UK Slot
Never let it be said that you can't strike a deal with the big man himself, we are of course talking about Saint Nick. Christmas Deal is just one of the Christmas-themed UK Slots which you will find on UK Slot Games developed by Gamevy. We may be an online slot casino, but we will always make room for games as exceptional as Christmas Deal.
Hottest UK Slots
The aim of the game is incredibly simple, all you will need to do is find 10 diamonds on the 5 x 10 board of colourful and neatly wrapped Christmas gifts which appear in a giant fireplace. The game may be simple, but that didn't stop Gamevy from going all out with the visual design. You'll definitely top up your Christmas spirit while you are playing. To the left of the board, you'll see a giant, expertly decorated Christmas tree, to the right, you will find a large heap of massive gift-wrapped boxes. Even though they say that bigger isn't always better at Christmas, the max jackpot in Christmas Deal will definitely change your mind. The max win in Christmas Deal is 9,830x your stake which can be set from 50p, or you could make the most of that juicy max multiplier with the maximum bet level of £10. With the medium volatility, it isn't all too hard to strike a deal with Christmas Deal. The RTP comes in at 92.07%, which is slightly lower than your average online slot, but for a digital scratch card, it is right on the money.
Game Bonus Features
If you have never played one of Gamevy's match-style games, you will find that they are all too easy to get to grips with. First, you will need to set your stake. You won't need to do the math when it comes to working out the size of the jackpot which is up for grabs with your current bet level, it will be displayed beneath the functions which allow you to lower or raise your stake. Once your bet level has been fixed and you hit 'play' you will be presented with a screen of 50 presents. The trick to getting the highest jackpot is finding all 10 diamonds in a row. However, to make it a little easier for you to find all 10 of the diamonds, you will get 4 lives, each time you use one of your lives, the prize value will diminish, but you will still be rewarded for your success.
Christmas Deal Developer - Gamevy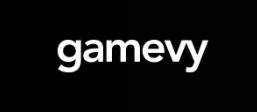 If you're looking for the average online slot game, you certainly won't find it in Gamevy's portfolio. Since 2013, the London, UK-based developer has  been spoiling UK slots fans with unique and imaginative content, such as you enjoyed with Christmas Deal, but the iGaming developer doesn't just limit themselves to the creation of online slot games, they also create match 3 games, roulette games and other poker games. Plenty of which we also host on UK Slot Games which you'll be able to enjoy on your mobile, desktop, laptop or tablet.