Chilli Gold 2 UK Slot Game
Play Chilli Gold 2 at UK Slots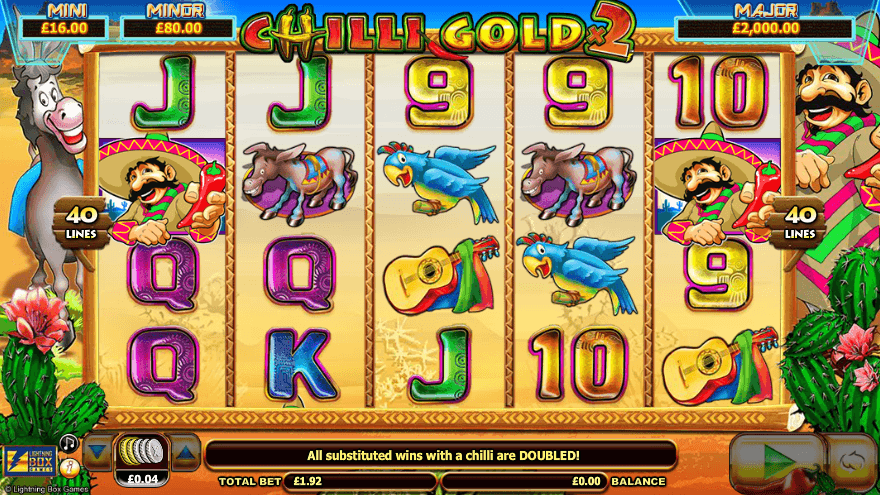 Chilli Gold 2 UK Slot
Chilli Gold 2 is a 5 reels, 40 paylines UK slots game by Lightning Box. Chilli Gold 2 has Wild, Free Spins, Gamble, and Progressive Jackpot features, and an RTP of 95.32%. If you want to play Chilli Gold 2, play it here with us at UK Slot Games, where we also feature more than 500 great UK slots such as Great Rhino, Starburst, Rainbow Riches and Bonanza.
Hottest UK Slots
Arriba, Arriba! There's no mistaking the setting for this 2014 slot game from Lightning Box; there's Mexican imagery everywhere you look from the moment you load the slot up, accompanied by an atmospheric backing track of Mexican music! This is a slot that was built to put a smile on your face, and it achieves that with its colorful and cheeky design, and its rewarding bonus features.
As the title suggests, this is the sequel to an earlier Chilli Gold slot from the same provider. As well as a graphical upgrade, it's also added a gamble feature and a progressive jackpot to the original formula, making it a superior slot in every way. The first Chilli Gold was one of the slots UK players flocked to when it was first published, but the success of Chilli Gold 2 has rendered it almost completely obsolete. Why play the first slot when the sequel is so much better?
The lively playing area comprises of a large 5x4 layout, within which there are forty possible paylines to chase after. Cacti plants sprouting from the sandy desert background are positioned to the left and right of the reels, with a friendly donkey and a smiling Mexican man with a sombrero and a poncho also on hand to complete the look. If there was ever a charge that Chilli Gold 2 would never be found guilty of, it's subtlety.
If you can turn your attention away from the loud background to the reels, you'll find the boring old playing card symbols 9 to A taking up space as the least valuable offerings. They're followed by theme-specific symbols including a guitar, maracas, a smiling parrot, an even-smilier donkey, and the Mexican gentleman making a second appearance, this time offering you a hot-looking red chilli.
One special symbol works as both a scatter and a wild in Extra Chilli 2, and that (of course) is represented by a big, thick, red chilli. It's limited to appearances only within the first three reels, but whenever it lands, it does so as a stack. Stacking enough of them will open up the slot's primary bonus feature.
Game Features
Chilli Gold 2 comes with a progressive jackpot, which is split into several pots. The current value of those pots is always visible at the top of the screen, so you always know what you're playing for if you're lucky enough to be chosen to take a shot at it. We'll come to that in a moment; there are two other bonus features for us to concern ourselves with first.
The first is a Free Spins feature. As is the case with many UK slot games you'll have played in the past, the key to getting into it is finding multiple bonus symbols. As those bonus symbols stack, that isn't as difficult here as it sometimes is elsewhere.
Free Spins
Getting six of the bonus symbols is quite easy to do and will bring you a modest reward of three free spins. To get real joy from this feature, you'll want to land a lot more than six! The number of spins you'll receive will increase in proportion to the number of bonus symbols you trigger the round with, up to a maximum of 21 free spins if you can find twelve chillis at once. Basically, each additional chilli above six is worth three more spins. You can re-trigger the round while it's active by finding at least another six chillis. Every winning combination found during the free spins feature is worth double what it would be in the base game. To make those wins easier to find, a second golden chilli wild is added to the reels for the duration of the spins - and it stacks just like the standard wild does.
Gamble
As well as the free spins, there's also a Gamble Feature, which is very similar to the equivalent feature you'll likely have seen in other UK slots. After a win, you can gamble your winnings by predicting the next card to be drawn from the pack. If you're happy just picking red or black, your winnings will be doubled if you choose correctly. If you want to take it a step further and predict the suit, your winnings will quadruple if you're right in your prediction. The wrong choice will cost you whatever you've just won.
Jackpot
There's no surefire way to trigger the Jackpot Game; it will just happen if and when it feels like it, although playing with a larger stake is more likely to make it happen. At first, it functions like a prize-pick feature. You choose from a range of symbols presented, and will either get a prize or an 'advance' icon. If you get a prize, you'll win it instantly, and the round ends. 'Advance' takes you to the next rung on the jackpot ladder. The objective is to make it to the top of the ladder, where you'll play a mini version of 'Space Invaders,' shooting enemy ships until you've found three matching symbols, and in the process netting one of the three jackpot prizes.
Chilli Gold 2 is good looking, plenty of fun, and rewarding at the same time. Because of the stacking bonus symbols, the free spins feature is easy to trigger. That's where you're most likely to pick up big wins.
Chilli Gold 2 Developer - Lightning Box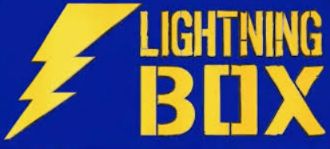 If you ask Australian developer Lightning Box what goes into creating a great slot game, they'll give you a very simple answer:- it's all about the maths. The company, who refer to themselves as 'slot design specialist,' pride themselves very highly on the functionality of their slots. The fact that they also tend to be attractive to look at is just a bonus!
Lightning Box formed in 2004; the result of several specialists and senior staff from other casino companies coming together to create something new. That time was the very dawn of the era of online slots, and it didn't take Lightning Box long to decide to focus on that aspect of slot design completely, leaving their original plan to make software for land-based casinos behind.
They're not the highest-profile provider, and nor are they the most prolific in terms of the number of slots they produce, but they value quality above all other things. They promise that aside from the maths and the graphics, all of their slots come with a 'touch of magic.' Having had a great time playing Chilli Gold 2, we can't disagree with them about that.