Arctic Valor UK Slot Game
Play Arctic Valor at UK Slots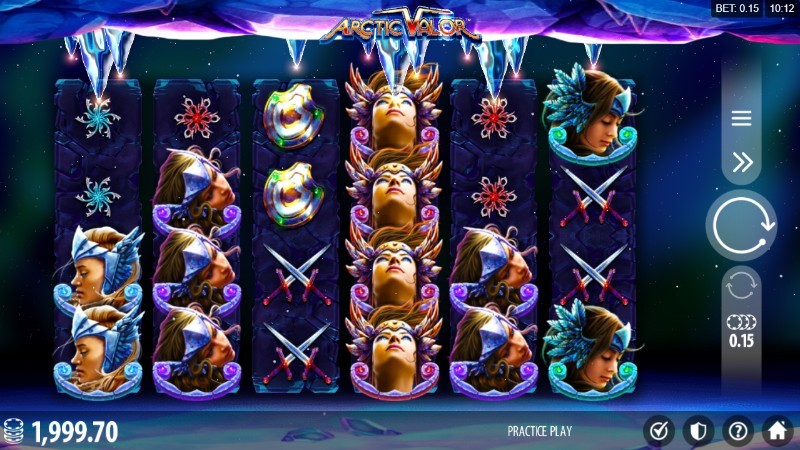 New Players Only. 65x Wagering. £250 Max Win. Full T&C's Apply
Arctic Valor UK Slot
This wintry slot, which takes theming cues from the Norse world of legends and Gods, was created by Crazy Tooth Studio in conjunction with Microgaming. The reel layout is large at 6x4, and there are an incredible 4096 pay lines, resulting in a generous 96.70% RTP. Two bonus features are contained within the slot, one of which is an 'Icicle' feature in keeping with the slot's theme. The best place to play this slot us right here at UK Slot Games, which is home to over 500 leading online slots like Great Rhino, Starburst, Rainbow Riches and Bonanza.
Hottest UK Slots
Welcome to the frozen wastelands of Crazy Tooth Studio's Arctic Valor. The title is well chosen - you'll be needing plenty of valor and courage to do battle with the Norse Gods and creatures of legend that appear in this slot. This slot hit the internet in early 2019 to strong reviews, with players delighted by its novelty. It feels epic and dramatic in its theme and inspiration, combining the dense mythology it uses as source material with an icy landscape.
In Norse mythology, there is a creature known as the Valkyrie (perhaps best known from its inclusion in the title of Wagner's 'Flight of the Valkyrie'). A Valkyrie is a female spirit who visits battlefields and decides which warriors will live, and which warriors will die. Even the most battle-hardened Norse warrior would have feared meeting a Valkyrie, but you're not a Norse warrior - you're an online slot player! They'll be much kinder to you in this slot, as you'll find out in a moment.
As you may have noticed from the introduction to this review, the playing area in Arctic Valor is unusually large. There are six reels and four rows, which is one more than the average in both directions. We're happy for the extra space; not least because it gives us more opportunity to appreciate just how beautifully drawn all the symbols are. This is a strikingly attractive slot. Above that huge grid of symbols are some dangling icicles, ready to break off from the roof of a cave and land on your reels. We'll talk about them some more when we come to review the slot's bonus features. Beyond the cave mouth that hosts the reels is a dark and ominous sky, snowy and misty.
On the reels, you'll find the least valuable symbols represented by snowflakes; there's a red one, a green one and a blue one. The higher values are swords, bows and arrows, warrior helmets, shields and most precious of all, the Valkyries, of which there are four different individuals.
We feel we should point out that the lowest value symbols in the slot - the snowflakes - are worth practically nothing. Making winning lines with them is barely worth it. You'll have far more joy in the bonus features, and with the highest value symbols. The slot is unconventional in the way that it recognizes paying lines; it will accept them in any direction and anywhere on the reels so long as you have at least three matching symbols to be counted. That's how Arctic Valor is able to offer 4096 ways to win. Many of the symbols also stack, which boosts the chances of a win significantly.
Above the basic symbols are a wild (helpfully labeled 'WILD') which substitutes for everything apart from the slot's scatter to create paying lines. The scatter is an intricately detailed multicolored snowflake.
Game Bonus Features
The most unique bonus feature in this slot is the one which is closely tied to the slot's theme; the Icicle Bonus. We have seen something slightly similar to this before in Rainbow Riches: Drops of Gold, and so if you've played that slot, you may also have a head start on understanding how it works. In Arctic Valor this is a randomly occurring feature that may happen on any spin, or never at all. One of the many icicles hanging above the reels may break free and plummet onto the reels, covering somewhere between one and three rows on whichever reel they land on. They then melt away to reveal either matching high-value symbols or additional wilds.
Free Spins are the other bonus feature in the slot. You'll need the assistance of that multicolored snowflake scatter symbol to get his round started; three or more of them will do the job, and they count no matter where they are on the reels so long as they're all in view at the same time. You get seven free spins, and on each one of them, an icicle will fall from the roof, melting away to reveal high-value symbols or wilds in the same way it does in the icicle bonus. If the icicle lands on a reel that contains a Valkyrie, the icicle grows to cover the whole reel. That can potentially mean a wild reel, or a reel full of valuable symbols for your next spin.
Arctic Valor is original, beautifully presented and intelligent in the way that it delivers its bonus features, which make a fine addition to the slot.
Arctic Valor Developer - Crazy Tooth Studio

Microgaming lent their expertise and some of their technology to Crazy Tooth Studio in order to create Arctic Valor, but it was Crazy Tooth who did the lion's share of the work. They're an American developer who've been actively creating online slots since 2011. They've enjoyed some success in the past with their online slots - with Wrecking Ball and Queen of the Crystal Ways being good examples - but they work on more than just making slots when they put their programmers to work.
Crazy Tooth Studio is responsible for the creation of the 'CTS Arsenal' software; a sort-of framework on which you can easily build new online slots. Using this kind of software wrapper makes it easier for other developers to design a product which they know will work on any device and any display. Integration is key when you're designing online slots - a fact that's apparent from the number of slots which work fine on a computer, but not on a mobile phone. Crazy Tooth is happy to let other developers use the Arsenal software, while at the same time knowing their place in the food chain and working with companies like Microgaming to boost there profile. By doing business both above and below them, they're keeping themselves well connected within the online casino world.
As they're capable of making thrilling and beautiful slots and seem to have a brilliant business strategy, we're sure we'll be seeing plenty more of Crazy Tooth in the years to come.