All That Cash Power Bet UK Slot Game
Play All That Cash Power Bet at UK Slots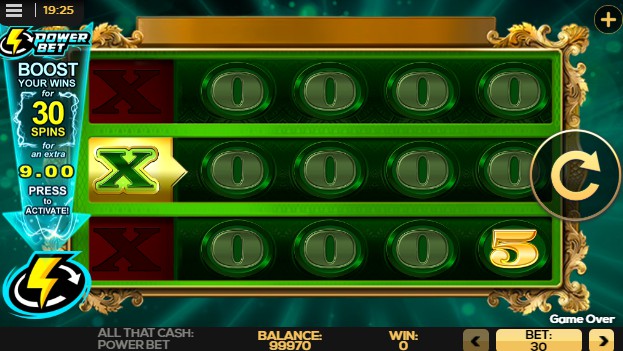 New Players Only. 65x Wagering. £250 Max Win. Full T&C's Apply
All That Cash Power Bet UK Slot
All That Cash Power Bet released in May 2019 is provided by High 5 Gaming. This is a 5x3 game with 0 paylines slot game and has RTP of 96.5%, the main game features of All That Cash Power Bet is Multiplier.
Hottest UK Slots
How much cash does an online slot game have to offer to justify a title such as 'All That Cash Power Bet?' A jackpot of 150,0000 seems fair, and that's exactly what High 5 Gaming has offered with their 2019 online slot game which has already treated plenty of players on UK Slot Games to significant wins!
Yet, it's not all about the Jackpot with All That Cash Power Bet, the online slot game also offers plenty of distinctive fun as you spin for it! The online slot was released three years after the original 'All That Cash' slot game from High 5 Games, and it may not have had much in the way of an overhaul in terms of graphics, but the power bet option will definitely bring a new dynamic to your online slot gaming experience.
If you don't like to hang around when it comes to triggering special features or bonus rounds, All That Cash Power Bet gives you the option to get the best out of the game for up to 30 spins when you activate the bonus feature. It's totally up to you if you use it, and while not all players will appreciate the high-risk action, players with a larger bankroll may just find themselves with a new favourite online slot game with All That Cash Power Bet.
All That Cash Power Bet works differently to your usual slot games, as you won't be creating winning combinations of different symbols. Instead, wins are made by lining up an X (which works as a multiplier) and a number. Whichever numbers line up with the X is the multiplier which will be applied to your stake amount.
The reel set on All That Cash Power Bet looks like a 5x3 set, however, the first reel can only display the X symbol. Reels 2, 3, 4, and 5 will show different numbers. Each position will only contain one numerical value between 0 and 9. However, if the numbers are in adjacent lines, you will be able to create up to 4 figure numbers. For example, if the numbers 1, 0, and 1 appeared next to each other, you'd receive a multiplier of 101x. Don't worry about doing all of the maths, your multiplier will jump out on the screen at you before you see the money hit your coin balance.
All That Cash Power Bet may not be ultra-modern, and it may not be jam-packed with bonus features, but the online slot game stands as a testament to High 5 Games' ingenuity with their mobile slot game experiences. So, even though you may not get much variety in the gameplay, there's a lot to be said when it comes to not knowing which number is going to appear on the screen rather than knowing exactly what you will get from creating a winning line of a certain number of symbols.
You'll be able to set your stakes as low as 60p or take advantage of the incredibly wide betting range with a max bet of £450 in All That Cash Power Bet. Considering the size of the multipliers, it would be no surprise if you wanted to be a little more daring with this online slot. After all, there is the chance you could win 10,000x your stake with the Jackpot feature. The RTP is set to an incredibly generous 96.5% when you use the power bet function, but even without opting to use the feature the payouts find a nice balance between frequency and generosity.
Game Bonus Features
As we said before, All That Cash Power Bet really isn't a bonus heavy slot game. It keeps to the same style of traditional online slot games while switching up the mechanics of how the reels work. However, the optional Power Bet bonus feature holds plenty of appeal to players who like to have the option of buying their way into bonus features. The feature will remain constantly available to you, however, it will cost you 30 times the stake amount which you are playing with.
If you decide to activate the Power Bet feature your next thirty spins can be incredibly lucrative – of course, it's not guaranteed that the Power Bet will be worth the high stake each and every time. However, it is definitely worth experimenting with a few times – you'll surely appreciate the benefits of the RTP shooting up from 96% to 96.5% and that really does make all of the difference.
All That Cash Power Bet also offers a Jackpot feature. The jackpot feature is unlocked with the purple bonus symbol which will appear only on the first reel. If it pops up, you'll instantly receive a payout of 10,000x your stake! Players using higher stake amounts have a higher chance of finding the jackpot symbol as they spin.
So even without free spins, re-spins, or wild symbols, All That Cash Power Bet still remains an incredibly exciting online slot game which offers plenty more than just novelty appeal. There may not be all too much variety in the no-frills gaming experience, but if you're only concerned with the size of the payouts, All That Cash Power Bet certainly won't disappoint.
All That Cash Power Bet Developer - High 5 Gaming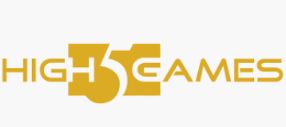 When it comes to cooking up brand new online slot game experiences, High 5 Gaming is leading the way with their incredibly authentic and artistic approach to slot games. They may design their games with vintage and nostalgic feel, but don't let that fool you. With each of their titles, they will offer you a new twist of innovation – you'll never get bored exploring their rich portfolio of online slot games, plenty of which are available to play on UK Slot Games. If you enjoyed All That Cash Power Bet, you may also want to try Diamonds By Da Vinci Online Slot, Thundering Buffalo, Lucky Strip, and Way Out Wilds UK Slot.