Fluffy Favourites Jackpot
Play Fluffy Favourites Jackpot at UK Slots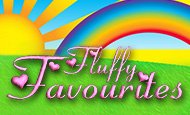 Fluffy Favourites Jackpot UK Slot
A traditional-style five reel, three row slot game, with 25 paylines and an RTP of 89.9%. This Eyecon game, with its cast of adorable stuffed animals, belongs to the 'cute' genre. Bonus features on offer to players are free spins, a 'toy box' prize picker round, and the Eyecon 'gamble' feature, along with access to a progressive jackpot. This much loved game is best played on the UK Slot Games website which features over 600 slot games, including 'Starburst Slot', 'Rainbow Riches', 'Bonanza' and 'Wolf Gold'.
Hottest UK Slots
If you're a seasoned online slot player, you already know about the Fluffy Favourites series. It's a legendary family of slot games by Eyecon, which is well loved by hundreds of thousands of players. If you're new to the series, though, then let us try to explain the appeal for you. Most of us, when we were young, had one or two cuddly toys that we played or slept with as children. Then, one day, we grow up, and the toys are either handed down to the next generation or given away. In Fluffy Favourites Jackpot, and the rest of the games in the Fluffy Favourites series, they're back and they're better than ever! Never believe that you're too old to play with cuddly toys; when you do it with this game, it could potentially win you a lot of money.
Players of a certain age will likely be reminded of a TV show from their childhood when they're playing this game. If the names 'Zippy', 'Bungle' and 'George' mean anything to you, that means you probably grew up watching 'Rainbow'; a brightly coloured children's television show, where stuffed toys came to life and spoke to us. Three entire generations of Britain's children were raised on that show, and the characters in it were our best friends for a while! It feels like a number of the game's visual cues have been taken from 'Rainbow', from the soft, cute design of the characters on the reels to the actual rainbow in the background of the game, arcing away from a circus tent. That, presumably, is the place the animals call 'home'.
The symbols on the reel are completely in keeping with the game's theme, which is one of fun and nostalgia. Every single one of the symbols comes from the world of the game; you won't find any playing cards or fruit here. Instead we have a whole cast of fluffy toys; namely goldfish, ducks, rhinos, giraffes, lions, turtles, dragons, pandas, monkeys, and some particularly cute hippos.
When you're of the legal age to drink, seeing a pink elephant is a traditional metaphor that suggests you may have had a little too much. In Fluffy Favourites Jackpot, don't blink or shake your head if it shows up on the reels. It's actually the game's wild symbol! It will substitute for any symbol other than the scatter to create new winning lines. The scatter itself is a claw; the sort that you might have used in a seaside arcade to grab a real-life stuffed toy from inside a glass cabinet. Both the pink elephant and the claw symbol have implications for the game's bonus features, so let's explore those and find out what they have to offer.
Bonus Features
There are three separate bonus features inside Fluffy Favourites Jackpot, not inclusive of the progressive jackpot itself, which we'll talk about a little later on. More often than not, Eyecon include several fun bonuses within their games to keep things interesting for players. The original Fluffy Favourites game was known for its fun bonus rounds, and so if you've played that, you'll be pleased to know all three features are still here.
1. Free Spins: Free Spins are the feature that the pink elephant brings to you, if you're lucky enough to see at least three of them on the reels at the same time. It doesn't matter where they appear on the reels so long as you get three, which is, of course, the magic number. Fifteen free spins is your reward for finding that trio of elephants, although you'll get twenty for four of them, and twenty five if five appear at once. This is a very generous free spins mode; the value of any winning line you find during the round is trebled. On top of that, the round will re-trigger if the pink elephants visit your reels again during your free spins!
2. Toy Box: Toy Box mode is the Fluffy Favourites take on a standard 'prize picker' round, and it's all themed around the idea of trying to grab soft toys using a claw. If you spent much time at a seaside arcade as a child, you probably tried to do this with your pocket money more than once! Three or more of the claw scatter symbols will trigger this round. The more claws you have on your reels when the round starts, the more prizes you're permitted to choose, up to five. Behind every prize is a multiplier, which is then applied to your stake. It's possible to multiply your original stake by x100 here, so be lucky and pick carefully!
Gamble Feature is another common element in Eyecon games. This is a simple game to understand; it's a straight 50/50 choice, based on picking one of two cards offered to you by the game. You may activate this feature whenever you find a winning line, and it works like this; make the right choice, and your last winnings are doubled. Make the wrong one, and your winnings are lost. Pick the right card, and you may choose to gamble it again up to five times in a row. That means if you're very brave, and of course very lucky, you can massively increase your winnings here.
The Progressive Jackpot is what marks this game out as being different from the original. It's also the reason why the RTP of Fluffy Favourites Jackpot is 89.9%, which is lower than the original. Games with a progressive jackpot tend to be a little less generous with the basic RTP. If you want to chase after very large prizes, you have to accept that they'll show up a little less often! There are three levels of jackpot available within the game, which trigger randomly, and they're named Mini, Maxi and Mega. The mini jackpot is fixed at £50. Not bad, but not the biggest victory you're ever likely to have at ukslotgames.com. The Maxi jackpot is usually worth a couple of thousand pounds, which occurs much less often, but is obviously a great thing when it arrives! If lady luck is truly with you, and the Mega Jackpot pays out, you could be looking at anything up to half a million pounds.
Fluffy Favourites Jackpot Developer - Eyecon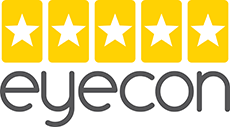 Anyone who knows and loves online slots will need no introduction to Eyecon Games; they're one of the biggest names in the industry, and they have a well-earned reputation for quality. They actually started life making regular video games, which probably explains the video-game style quality and innovation that their slot games often feature during bonus rounds.
Eyecon were founded way back in 1997. They caught the world's eye with a game called 'Gore', which was downloaded several million times and established them as a confident and capable name in the digital entertainment world. In 1999, they decided their future would be based around making online slots; they'd seen the way the internet was developing, and decided to get their foot in the door before almost anybody else.

They took their time to get it right, and didn't put their first release onto the market until they were sure they had a hit on their hands. That was 2003's 'Temple of Isis', which is still popular with players today. One of their key strengths has been to make games that are designed to last for a long time; instead of hopping into the latest trend, or building games around a theme that will only be popular for a year or so, they create games with the intention that they'll have a timeless appeal, and keep players coming back year after year.
Perhaps no game has demonstrated that so well as 'Fluffy Favourites', which was launched in 2006. It's the jewel of the Eyecon crown, still as popular today as it's ever been. Over ten years later it's still recognized as one of the most played, and most loved, online slots of all time. That makes it an obvious choice to be featured here at UK Slot Games.

Eyecon have released over sixty slot games to date, and their success has seen them able to open offices in both Australia and Guernsey. Whilst online slots are the focus of their business, they also have roulette and bingo titles on the market, too. Amazingly, Eyecon slot games receive more than six billion spins every year. That's almost 11,500 a minute!
They don't actually list the Fluffy Favourites Jackpot game separately on their own website, but they do have nice things to say about the original version of the game, upon which the Jackpot version is based. In their own words, they say:- "Fluffy Favourites is the most popular online slot game around! Play now to find out why. The reels are filled with the cutest stuffed animals, and the bonuses and prizes available are simply irresistible! Fluffy Favourites is nostalgic in its design, which will keep you coming back for more. Furthermore, it's colourful and bright, fun and rewarding – what more could you want? Join your fellow Fluffy lovers and spin Fluffy Favourites today because the fun waits for no one!"

There's a very good reason Eyecon are so enthusiastic about Fluffy Favourites and the family of games they've built around it; it's one of the most famous online slots of all time, and one of the best loved slot games still being played today. When they made the original, they struck gold. Fluffy Favourites Jackpot is just one more way to enjoy it!
Related UK Slot Games
As we mentioned at the start of this review, there's a whole family of games built around the original Fluffy Favourites. Popular slot games get sequels and spin-offs for exactly the same reasons popular movies or video games do; there's an audience out there for them, and they're always eager to see more! Allow us to introduce you to the other members of the Fluffy Favourites family.
Fluffy Favourites
The game that started it all! Fluffy Favourites is the original, and the game which everything that's come since aspires to match in terms of quality and popularity. 'Fluffy Favourites' is the world-famous star of the Eyecon brand, and you can consider it to be the family's father. In terms of layout, features and feel, it's virtually identical to Fluffy Favourites Jackpot; the only real difference between the two games is the link to the progressive jackpot and the RTP, which is at 95.3% in the first game.
Fluffy Too
The direct sequel to the original game (too = "two". Get it?) is faithful to the original. The scenery is familiar and just as cute, but the fairground that all the cuddly toys call home has now moved to the beach! Most of the toys from the original game back it back for the sequel, along with some new friends who they've picked up on the way. Somehow, they're even more bright and colourful here than they were in the original. The pink elephant is back as the wild symbol, too, and just like last time it will give you free spins if you can find a bunch of them. What really marks 'Fluffy Too' out as different from the game that came before it is the 'Coin Pusher' bonus. When three (or more) scatter symbols appear anywhere on the reels, the mode is triggered. Each coin you find is hiding a secret value; one of which is a multiplier of one hundred times your original stake.
Fluffy Favourites Fairground
The third game in the series takes all of the essential ingredients that people love about the first two games, and gives them a polish and an update. We're moving away from the circus to the fairground, as the name suggests, and all of our favourite toys have had an update to their animation as they've made the journey. Part of the charm of the original two games was their hand-drawn feel, which evoked memories of watching cartoons. 'Fluffy Favourites' Fairground' is both 3D and HD, which makes for a sharper look on modern screens. The 'prize pick' feature has been updated and tweaked again; the 100x prize multiplier is still on offer, but this time landing it depends on finding three 'big tent' symbols, and playing a bonus round based around the fairground classic 'hook a duck', which may remind you of happy summers you spent as a child. Oh, and of course your favourite pink elephant is still here to bring you free spins as well!
Fluffy Favourites Instant
This is a different type of take on the 'Fluffy Favourites' franchise. It's also made by a different company; in this case, Instant Win Gaming as opposed to Eyecon. If you're not familiar with the concept of 'Instant' games, it's essentially a scratchcard game turned into a slot game experience In the case of 'Fluffy Favourites Instant', it takes the theme, the feel, and many of the adorable characters from the Fluffy Favourite world, and puts them behind a cover for you to scratch off. Three games are playable once you've selected your stake amount; the first is a basic game of finding three matching symbols to win a prize, the second requires you to find two matching symbols in a row to win the displayed prize, and the third is all about finding one lucky symbol anywhere on the screen.
Fluffy Favourites Bonus
Another game in the series that was made by Instant Win Gaming as opposed to Eyecon, and another fresh take on the online slot experience. If you've ever played 'Tetris' - and who hasn't? - then you'll intuitively know how to play this game already. Play takes place on a 9x6 grid full of the adorable animals from the Fluffy Favourites game world. All you have to do is find five or more matching animals to win a prize. Once you've matched them up, they'll vanish from the grid, and more animals will take their place (exactly like making lines on Tetris!). You just carry on matching them up until there are no more left to match. The more matches you make, the more points you get. And what do points make? Prizes! It's worth noting that not all of the animals are worth the same in this game; fifteen purple hippos will net you 10,000 times your initial stake, for example, whereas fifteen yellow ducks only get you fifty times your stake. That's still a good multiplier! There are a few bonus games thrown in for good measure, including the kind of 'prize picker' rounds that make 'Fluffy Favourites' so popular in the first place.
Similar Slots to Fluffy Favourites Jackpot
Cuddly toys may not immediately seem to be the most obvious theme for a series of slot games, but Eyecon took a chance on it, and made a lot of money. Other slot developers sat up and took notice, and as a result there are several online slots out there which probably owe more than a little of their design and style to the success of the Fluffy Favourites range. Here are just a few of them.
Big Top: Big, bright, bold colours? Check. Adorable animals on the reels? Check. A circus setting? Check. 'Big Top' may have a lot of the same dressing as 'Fluffy Favourites', but it confines itself to staying in the circus tent itself instead of venturing into the fairground outside. That's why the animals on the reels are joined by circus clowns, and the animals themselves are performing tricks. There's even a lion in a top hat! Who let him be ringmaster? This game was made by Microgaming, and it's one of their older titles. That age shows, even though it's still fun to play. There's no background music at all, barely any animation even when a winning line is found, and a one dimensional graphical style. It's a fun game that's easy to understand and easy to play, but doesn't offer any bonus games other than a few multipliers.
Teddy Bear's Picnic
NextGen Online have made something that feels a little closer to 'Fluffy Favourites' in 'Teddy Bear's Picnic'. The visuals are just as adorable and soft, and if you ignored the title this could be mistaken in look and style to a 'Fluffy Favourites' game. They've just moved the animals away from the fairground and taken them out on a picnic for the day. In an interesting theme, the teddy bears have lost all the items they need for their picnic, and if you can find their food and cutlery they'll pay you quite handsomely for them! There are a few bear-themed bonuses, too; scattered picnic basket symbols can pay out up to 100 times your bet if you find them in the right combination, and there are even some missing bears to find, too! This is a non-traditional online slot in that it doesn't offer free spins or a 'prize picker'. It's the 'prize picker' aspect of 'Fluffy Favourites' that really makes it stand out.
Furballs
Somewhere between 'Space Invaders' and 'Fluffy Favourites' lives 'Furballs'. The creatures within the game haven't been drawn with the same level of charm or lovability as the Fluffy Favourites gang have, but they're an undeniably cute and endearing bunch; and there are a lot of them! This is a crisp, clean, sharp and simple game that won't win any awards for stunning design, but the minimalistic layout means it's easy to play on mobile formats. There's a free spins bonus feature, which is what you'd expect as a minimum, and also 'energy ball', 'lightning ball' and 'virus ball' wilds which is where the 'Space Invaders' comparison comes from. Find one of these balls and they'll have an effect on the furballs around them, either changing their colour or destroying them completely. That could make it easier for you to find winning lines, or it could make it harder. This is a Core Gaming slot game, which isn't as innovative or immersive as 'Fluffy Favourites', but has a definite appeal of its own.
Jurassic Juniors
What if the fluffy favourites in the 'Fluffy Favourites' game weren't actually cute stuffed toys? What if they were cute baby dinosaurs instead? That's the major difference between 'Fluffy Favourites' and this title. If you remember the sitcom 'Dinosaurs' from the 1990s you'll immediately see where this online slot got its inspiration from; right down to the dinosaurs in nappies! The adult dinosaur on the reels is the wild, matching with any of its children to create winning lines. The egg is a scatter, and can bring you free spins. Is it as in-depth or expansive in terms of bonuses as 'Fluffy Favourites'? No, but it's still a fun game to play, and cute to look at!
Gameplay On Mobile vs Laptop
The original Fluffy Favourites game was released in 2006, and so if you were playing that, you might naturally have some concerns that the game may not play as well on a smart phone or tablet. You needn't have any such concerns, the original plays just fine on a smart device! The Jackpot version of the game is actually a much more recent release, so we should be safe to assume that there are no issues with playing it as a mobile slot. So have Eyecon got it right?
Of course they have. Eyecon almost never put a foot wrong when they're preparing their games for mobiles, and they've done the job perfectly with Fluffy Favourites Jackpot. Whether you're holding your device in landscape or portrait orientation, the game adapts itself, relocating all the buttons and making sure they're easily seen. At the same time, the reels shift position to make sure they and all the symbols on them remain sharp and clear. Nothing is lost in the conversion, and nothing looks out of place.
If you've had fun playing Fluffy Favourites Jackpot on your computer, you'll love it just as much playing it on your phone. We wish everybody was as good at adapting their games into mobile slots as Eyecon have been with this effort. Aside from the fact you're using your fingers rather than a keyboard or mouse, you shouldn't notice any difference at all.
Latest Fluffy Favourites Jackpot News
The original Fluffy Favourites is a legendary game, and several of the sequels that have come after it enjoy the same elevated status among gamers. That means that the series often finds itself written about by both mainstream media and industry publications. The Jackpot version itself doesn't get much specific attention, as it's seen as a spin-off from the original, but you don't have to look very far to find the family of games getting name-checked.
The Gaming Intelligence website recently ran an article about Eyecon's sale to Playtech, another major firm within the gaming industry. Playtech have aspirations of becoming an even bigger player within the slot game world, and they saw Eyecon's portfolio of games - as well as their technical expertise - to be a very desirable asset to buy. So much so they spent £50m on them! The Fluffy Favourites family is considered to be so central to Eyecon's value that it was the only one of their games that was actually referenced in the article.
Having a large profile isn't always a good thing; it makes you an easy target for attacks from the press, too. There was a debate recently within the Guardian Newspaper about whether online slots were being marketed to children or younger people. The Fluffy Favourites games, with their cast of cuddly toys, were cited as an example of a style that might appeal to the young. Obviously, Eyecon reject any suggestion that they're looking to appeal to children; from their point of view, the pull of the game is nostalgia for adults.
Why Is UK Slot Games The Best Place To Play Fluffy Favourites Jackpot?
If you already know the Fluffy Favourites series, you probably don't need any encouragement to play the Jackpot version of the game. If the idea of chasing a progressive jackpot appeals to you, you might as well chase it whilst playing with your favourite characters. If you're new to the series, we really can't recommend it enough. There's a reason why it's one of the most beloved online slot series of all time, and if you think it's time you found out the reason yourself, we'd love you to stay right here and play it with us on ukslotgames.com.
Not every online slot website is equal. There are some great ones out there, and some terrible ones too. We're of the opinion that we're one of the great ones, and here are the reasons why.
For a start, we have a hugely extensive range of slot games that the vast majority of websites could never hope to get near; we have over 600 popular slot games available for you play, and they're a carefully curated selection based on quality and fun. We have a range of different themes, and games of different difficulty, that should appeal to the new player and the experienced gamer alike. If you're bored of playing your usual slot game, there's always a new one for you to find on UK Slot Games.
Secondly, we don't force you to deposit money when you first sign up. Everybody is welcome to make an account, and you can then browse our entire catalogue to find a game you really want to play before you hand over any money. The Fluffy Favourites family is a fine place to start, but there's no reason to stop there! In fact when you sign up, you could win up to 500 free spins on our games just for doing so! This will require a little deposit.
We like to keep giving you free spins, too. Every time you deposit £20 or more through our safe, secure PayPal processing method, you're eligible to win more free spins. On top of that, our players can receive up to 10% as a daily cash back incentive!
We're a friendly company who genuinely appreciates your custom, and want you to enjoy spending time with us. We're always looking for new ways to reward regular players and thank you for choosing us. A genuinely great product range with genuinely great incentives should mean happy customers; so in that way, you can consider it our job to make you happy. Come on in and let us show you!
New players only, £10 min fund, max bonus conversion equal to lifetime deposits (up to £250) to real funds, 65x wagering requirements and full T&Cs apply here