White Wizard UK Slot Game
Play White Wizard at UK Slots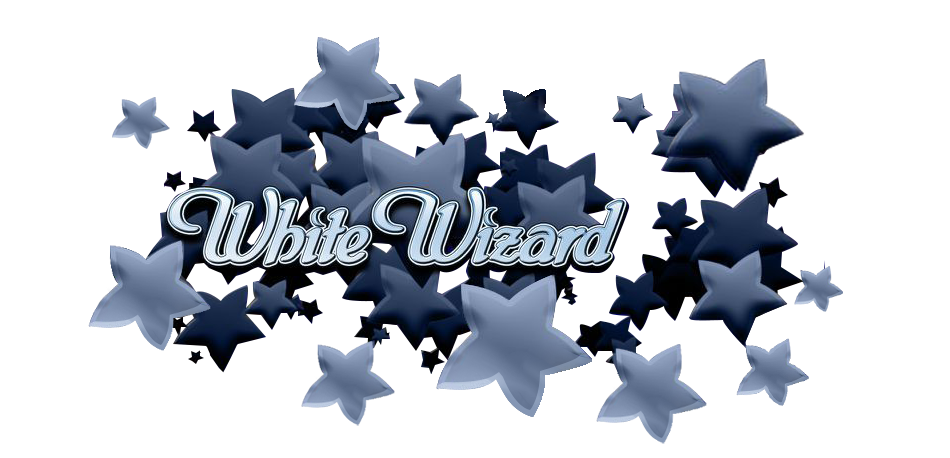 White Wizard UK Slot
This is a magical five reel, three row online slot by Eyecon, offering 25 paylines, an RTP of 95.94% and a big maximum jackpot of 3000x the initial stake. This game belongs firmly to the 'fantasy' genre. There are Free Spins and Gamble features to keep things interesting to players, and the best place to play it is here with us at UK Slot Games, where we also offer over 600 slot games, including 'Starburst', 'Rainbow Riches', 'Fluffy Favourites' and 'Bonanza'.
Hottest UK Slots
Prepare yourself to experience an online slot that could really put a spell on you! Eyecon are well known for their character-driven games, offering players a trip into fantasy and cartoon worlds where magic and mystery still rule the day. Once upon a time, wizards, witches and similar characters were seen as the preserve of nerds, but then Harry Potter came along and changed all of that forever. Wizards and magic are big business, and popular choices for film and television. When a topic works in entertainment, it usually works for slot games as well, and that's why Eyecon have gone with it as a theme.
The 'white' in the title refers to the 'good' side of the world of magic; black magic is always evil, and white magic is always good. Anybody who's familiar with Gandalf from the 'Lord of the Rings' world will know that already! You'll want to see plenty of the white wizard in this game, as he'll be the character responsible for getting the best wins possible. We'll go into that in more detail a little later on.
If this game wasn't bold, bright and colourful we'd be concerned that we weren't really playing an Eyecon game at all, so of course it is. The aesthetic of the playing area is vibrant whilst managing to stay simple at the same time; the frames of the reels look like they were taken from an ancient book of magic, whilst the background is made up of the stars that you might find on a wizard's hat in a cartoon.
On the reels, the traditional playing card symbols make up the lower values, running from 9 through to A. Above them are some symbols of the world that the wizard lives in; a magic wand, a book of spells, a cauldron full of an exotic green liquid and, for some reason, a unicorn. Perhaps that's the wizard's pet!
The wizard himself is the game's wild, although the text on his symbol identifies him as a 'substitute'. That's an appropriate description, as he'll substitute for anything except the game's scatter to make winning lines when he appears. He's a little restricted as to his location; you'll only find him on the first, third and fifth reel. When he does form part of a winning line, he multiplies the value of that win by three. Now that's magic!  
The scatter symbol is especially adorable, and wouldn't look out of place in Eyecon's legendary 'Fluffy Favourites' game; it's a cute, blue dragon. Finding three or more of the dragons anywhere on the reels will trigger the game's primary bonus feature.
Bonus Features
Eyecon are keeping things simple with the bonus features in this game. You can tell from the way that this online slot has been designed that the focus is on fun and simplicity, and so they don't want to complicate things by adding in too many distracting bells and whistles.
Free Spins: Free Spins are the primary bonus. Three dragons on your reels will award you fifteen free spins. Finding four of them will get you twenty free spins, and if you're lucky enough to find five, the reward is 25 free spins. The wizard must be pleased to see the dragon, because during the free spins he'll appear a lot more often on your reels. In fact, every time he appears on a reel during your free spins, he'll turn the whole reel wild for you. That really boosts your chances of finding a winning combination, and the value of the wins along with it!
If you're feeling especially lucky, you might want to try the game's Gamble Feature. This is a straight fifty-fifty choice that presents itself every time you find a winning line. Make the right choice and your win is doubled. Make the wrong one and your win is lost. You can repeat the 50/50 chance up to five times so long as you keep on winning, so this is all a matter of how far you want to push your luck!
White Wizard Developer - Eyecon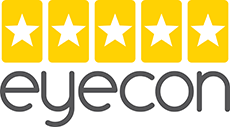 Anyone who knows and loves online slots will need no introduction to Eyecon Games; they're one of the biggest names in the industry, and they have a well-earned reputation for quality. They actually started life making regular video games, which probably explains the video-game style quality and innovation that their slot games often feature during bonus rounds - although they don't do that every time, as evidenced by this game.  
Eyecon were founded way back in 1997. They caught the world's eye with a game called 'Gore', which was downloaded several million times and established them as a confident and capable name in the digital entertainment world. In 1999, they decided their future would be based around making online slots; they'd seen the way the internet was developing, and decided to get their foot in the door before almost anybody else.

They took their time to get it right, and didn't put their first release onto the market until they were sure they had a hit on their hands. That was 2003's 'Temple of Isis', which is still popular with players today. One of their key strengths has been to make games that are designed to last for a long time; instead of jumping onto the latest trend, or building games around a theme that will only be popular for a year or so, they create games with the intention that they'll have a timeless appeal, and keep players coming back year after year.

Even if you've never heard of Eyecon by name before, you're probably familiar with their most famous and lucrative game; Fluffy Favourites; which continues to take the gaming world by storm, and is also available to play right here at UK Slot Games.
Eyecon have released over sixty slot games to date, and their success has seen them able to open offices in both Australia and Guernsey. Whilst online slots are the focus of their business, they also have roulette and bingo titles on the market, too. Amazingly, Eyecon slot games receive more than six billion spins every year. That's almost 11,500 a minute!
Discussing the game on their own website, Eyecon say:-
"Go on an enchanting adventure and play White Wizard Slots. The reels are filled with colourful symbols, except of course the shimmering White Wizard himself. You'll find Unicorns, Magic Wands, Spell Books, Dragons and more across the reels, and the graphics and sounds are simply captivating. Also, the animations are just enough so as not to be distracting or startling. Put on your wizard hat to become immersed in this top slot game today! There's no wonder why it's one of the most popular games around!"
It's unusual for a developer to talk down the graphics of their game, which is what Eyecon seem to do here. They're right though; the beauty of this game is its simplicity. Those who prefer comparatively more 'modern' games full of slick animation and atmospheric soundtracks may wish to look elsewhere, but if you want an engaging gaming experience with a slightly traditional feel, we're confident that you'll love White Wizard.
Related UK Slot Games
Since magic, wizards and witches are all back in fashion in the wider world, they're also popular at the moment in the world of online slots. That means there are several slot developers who've made use of the theme when making their own slot games.
Whenever we look for games similar to the one we're reviewing, we start with the game's own developer to see if they have any similar offerings within their own catalogue. Often, when a game is popular, a developer will create a sequel or a related game to capitalise on that popularity. In the case of Eyecon and White Wizard, they've done both! As the original game was released in 2015, they've had plenty of time to assess its performance, and they've decided the market was there to expand on the original offering.
White Wizard Jackpot
As with many 'jackpot' versions of existing games, White Wizard Jackpot is largely the same game as the original White Wizard, but linked to a progressive jackpot that can lead to huge wins for lucky players. There are a couple of additions that Eyecon have made for this game though; a 'Reel Power' feature that allows players to put stakes on the reels themselves instead of just the paylines, and some additional multiplier features. More scatter symbols are active during 'Reel Power' mode, meaning more chances of triggering the bonus features. The RTP is dropped to 89.9% for this version of the game, but that's common for games linked to a progressive jackpot. The prizes are much higher, but the chances of winning them are a little lower.
White Wizard Deluxe
This is a sequel to the original game, which Eyecon released in 2016, around a year after the first White Wizard. Although the visuals are very similar, and the layout of the reels is the same, this is a slightly more advanced version. The main difference is the number of paylines, which has been increased to 100. The expanding wild feature that the wizard offers in the first game is still here too, so the playing experience is similar. If you're fond of the first White Wizard game, chances are you'll love this one as well. RTP in White Wizard Deluxe is 95.5%.
Similar Slots to White Wizard
Whilst the number of wizard-themed games from Eyecon currently stands at three, there are plenty of similar games that have been released by other developers. When one manufacturer releases a game with a theme that becomes popular, other developers often take note and try to capitalise on that popularity for themselves. Here are some of the best of the rest.
Wild Wizards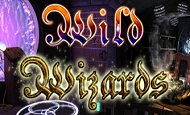 This is a 2015 release from a slot developer called Saucify, and a game that we're happy to offer to players here at UK Slot Games. Visually it's a little darker than White Wizard, but has the same familiar 5x3 layout, with 25 paylines. The RTP is 94.9%. The bonus features the game offers are free spins, along with scatter symbols, meaning that its features have a lot in common with White Wizard too. In a lot of ways, this does feel line a White Wizard clone, which just has a different musical and visual feel to it, and a very slightly lower RTP.
Lucky Wizard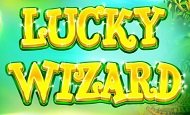 This is a more recent game from Red Tiger Gaming, having seen its release in 2017. It's a unique take on the 'wizards' theme, combining magic with Irish legend and leprechauns, resulting in an online slot that sits somewhere between White Wizard and Rainbow Riches. The 5x4 layout of the reels, coupled with 40 paylines, make this a more expansive game than the original White Wizard, and therefore more comparable to the White Wizard Deluxe sequel. A prize picker bonus round adds to the fun, along with several randomly occurring additional bonus features. It's a little more complex than White Wizard, and so it won't be for everybody, but if you'd like to give it a try, we also host this game at ukslotgames.com, too. RTP is 95.12%.
Winning Wizards
Microgaming's take on the wizard theme is a little older, having been released in 2014. It has an aesthetic feel that comes straight from a comic book. Everything about this slot game has been deliberately kept simple; there's a 5x3 layout, but only five paylines, and no bonus features at all. Despite that, the maximum jackpot is 10,000x the initial stake, so there's definitely something to play for. RTP is 95.46%. This game might be a little too simple for some players; especially those who love the thrill of a good free spins feature, but traditionalists might enjoy it.
Gameplay On Mobile vs Laptop
Eyecon usually do very well when adapting their games to become mobile slots. They load games on hand-held devices through a special piece of software, which is designed to optimise the game's performance once it loads. We've never previously encountered a major issue when trying to play an Eyecon game on a smart phone. So is White Wizard any different?
For the main part, no it isn't. The game loads quickly and easily, and displays just as well when your device is held in portrait mode as it does in landscape. When you tilt your device around, the layout and the buttons relocate themselves to suit whichever perspective you're using. The size of the reels is unaffected, and the buttons rearrange themselves so they're still easy to find and use, without getting in the way of the reels at all. Everything works exactly as it should do.
If we were to make one complaint, we think the quality of the graphics on the reels isn't quite as sharp in the mobile version. They become very slightly pixelated, although not so much that it becomes a distraction or prevents you from being able to read them. As the graphics aren't the main appeal of White Wizard anyway, this doesn't really affect anything, and the playing experience is exactly the same.
If you enjoy playing White Wizard on your computer, you'll have just as much fun playing it on any other device.
Latest White Wizard News
It's been a little while now since White Wizard was released, and so most mainstream and industry news sources have stopped writing about it. That's not an insult to the game; the pace of change is rapid within the gaming industry, and everybody's busy writing about the latest releases, or the next big thing.
Eyecon release new titles on a regular basis, and so when people do write about them, attention tends to focus on their newer releases as opposed to the games that already exist in their back catalog. Fluffy Favourites, and the huge number of sequels and associated games around it, tend to capture the eye more than most among Eyecon releases, and so it occasionally feels like their other titles don't always get the focus they deserve.
White Wizard is known for being a quality game though, and so its name does still come up every now and then. Recently, it was mentioned in an article on the video game review website GameSpew. They published an opinion piece on the topic of whether video games could teach us new skills. Slot games were given as a type of video game that can boost confidence, and White Wizard was specifically listed as an example. We're guessing the author is a fan of the game!  
Just because there isn't a huge amount of news about White Wizard right now doesn't mean that it isn't well thought of. It's just simply the case that both a jackpot version and a sequel have been released since the first game, and so they've subsequently gone on to be written about instead. Just like Terminator 2 is always bigger news than the first Terminator film, all the focus goes on what's shiny and new, no matter how good the original was. There are still plenty of good reasons to try White Wizard for yourself, and we hope we've persuaded you that it's worth your time.
Why Is UK Slot Games The Best Place To Play White Wizard?
If you feel like reading this review has given you the equivalent of a Hogwarts education, and you're ready to unleash a few spells of your own on the reels, then access to the game is only a click away. If you like the sound of what we've written about White Wizard, then we think you'll enjoy the playing experience even more. We'd really love you to stay here with us, and play it on ukslotgames.com.
We're a friendly company who genuinely appreciates your custom, and want you to enjoy spending time with us. We're always looking for new ways to reward regular players and thank you for choosing us. A genuinely great product range with genuinely great incentives should mean happy customers; so in that way, you can consider it our job to make you happy. Come on in and let us show you!
*All values (Bet Levels, Maximum Wins etc.) mentioned in relation to this slot game are subject to change at any time.
New players only, £10 min fund, £200 max bonus, max bonus conversion equal to lifetime deposits (up to £250), 65x wagering requirements and T&Cs apply.