Immortal Romance UK Slot Game
Play Immortal Romance at UK Slots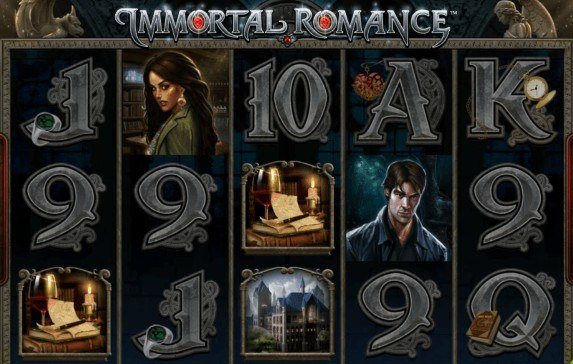 Immortal Romance UK Slot
Five reels, three slots, and yet 243 ways to win on this online slot, with an RTP of 96.86%. Microgaming's classic slot game is a standout in the field of horror games, containing 'Wild Desire' and 'Chamber of Spins' bonuses that fit the theme well.
UK Slot Games is one of the best sites offering the game, along with over 600 slot games, including 'Starburst', 'Rainbow Riches', 'Fluffy Favourites' and 'Bonanza'.
Hottest UK Slots
Hide the stakes, close the curtains and whatever you do, don't eat garlic before you load Microgaming's Immortal Romance. We're heading deep into vampire country, and the objective of the game is to not only come back alive, but come back with some prize money, too! There's been a resurgence in the whole vampire genre everywhere in entertainment in recent years; probably started by the Twilight book and movie series and then enhanced by True Blood and other series like it. There's still a lot to be said for the classic tale of Dracula, too, which is due for yet another big-screen re-imagining in the near future. The public love vampires, and never seem to get bored of them. That makes them an excellent subject for a good online slot.
In the modern era there are thousands of online slots out there, and you could make the case that too many of them feature superheroes, fairytales, or other 'fun' topics that can feel too childish to some players. That makes Immortal Romance a welcome change to the norm. This horror game has a Gothic theme and it sticks to it in a big way; the piano-led background music is genuinely eerie during quiet moments, and then becomes suitably epic when the bonus features demand a little more drama. It gives the game a cinematic, polished quality that really helps the player immerse themselves in the game's world.
To help with that sense of immersion, the game even has a plot of the kind that you might find in a regular video game; there are four characters by the names of Sarah, Amber, Michael and Troy who will appear on the reels, along with an ancient looking manuscript and a classic horror-movie house. The game's own logo serves as the wild, and the scatter comes in the form of a lion's head door knocker. If you're not sure what a lion's head door knocker has to do with vampires, we suggest you go back and watch Bram Stoker's Dracula from 1992. Door knockers can be scary if presented in the right manner!
Away from the characters and the theming, standard playing card symbols are used for the low-value symbols (although they've been decorated superbly to fit the theme), and the 243 ways to win stem from the fact that symbol combinations pay from left to right without having to be on a fixed payline. All of this makes for a game that's generous, dark, atmospheric and, like all things vampire related, just a tiny bit sexy.
Bonus Features
This game isn't a recent release; it's been out in the world since 2011, so it lacks some of the more flashy bonus rounds that you might expect from something more recent, but it makes up with them by offering genuine value, sticking to the theme well, and making them original. There are two bonus features to the game although speaking in real terms, one of them splits into four, as we'll explain below.

1. Wild Desire: Wild Desire Feature plays with the usual conventions of what a bonus round should be. How many times have you been playing a slot game, desperately trying to trigger a bonus feature of any kind, only to find that it's almost impossible to do so, and you have no idea where to start? You won't experience that playing Immortal Romance. Wild Desire Feature doesn't have a trigger. You don't have to do anything, achieve anything or find anything. It will just happen, at random, whenever it feels like it. There are pros and cons to that; some people like to feel they're earning their bonuses when the game's going well. For others, this is a welcome treat that might turn a game around when it's going badly for them. It's all down to taste. When the feature triggers itself, anything up to all five reels will turn wild, with obvious implications for your chances of a win.
2. Chamber of Spins: The Chamber of Spins is the bonus feature where the game really comes alive (or, if we were staying with the theme, more undead). This is also the feature where the big money can be won, so you'll want to pay attention to this. In order to enter the Chamber of Spins, you have to look out for those lion's head door knockers we mentioned earlier. Three, four or five of the heads will gain you access to the Chamber, at which point you'll be able to pick one of the game's characters. The first time you trigger the bonus, the only selection you can make is Amber. Triggering it five times makes Troy available, ten for Michael and fifteen for Sarah. Getting to Sarah takes a lot of effort, but the rewards are worth it. Let's break it down for you.
Selecting Amber gets you ten free spins, with a 5x multiplier applied for the duration of those spins. Not a bad prize, but not amazing either.
Selecting Troy brings you fifteen free spins and a horde of rampant vampire bats which flap their way across your reels, turning them into 2x or 3 x multipliers as they go. Still nothing huge, but there are solid chances to win, and of course the bats are cool.
When you get to Michael, things will really start to get interesting. Michael can give you twenty five free spins with rolling reels; meaning that every time a winning spin lands, all the symbols involved in that combination will change into other symbols at random. If that results in another winning combination, the multiplier applied to it is increased up to a maximum of 5x.
Michael is good, but Sarah is great. Sarah brings you twenty five free spins, just like Michael did, but also introduces a Wild Vine symbol. If that Wild Vine lands on reel three it will randomly transfer any number of the other symbols on the reels into wilds. That generates winning combinations, and if you find between two and give scatter symbols you'll get an additional one to four free spins, too. Sarah's bonus mode is almost guaranteed to generate a large payout.
Immortal Romance Developer - Microgaming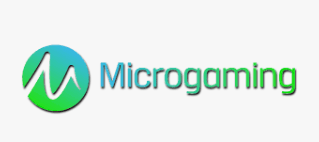 Microgaming describe themselves as an award winning (more on that in a moment) gaming software developer who supply customers all over the world. They've been in the business for a long time, and they claim it was them who developed the world's first 'true' software for online casinos all the way back in 1994, when the internet had barely been born. As if that wasn't enough, they also claim that they developed the world's first functional software for mobile casinos ten years later in 2004; again, that was right at the dawn of mobile gaming. That would make them a cutting edge market leader in the gaming world.
They're understandably proud of the success of Immortal Romance, but they have plenty of other feathers to their cap, too. The Microgaming roster of online slots include Avalon, Dragonz and Thunderstruck. They also frequently win licensed from big film and TV companies to make their games, which is a sure sign of trust and reliability. The official Jurassic World and Game of Thrones slot games were made by Microgaming. The company has a long track record of releasing new games every single month.
The impressive achievements just keep coming the more you look into Microgaming. They're listed as holding a Guinness World Record; their progressive jackpot is the world's largest, and has so far paid out more than £800m; that also includes the largest jackpot payout ever seen in an online slot game, when a player in the UK won over £16,000 from a 25p spin!
As for the awards? Well, at the EGR B2B awards they've won 'Best Poker Software' for six of the past seven years. They were the iGaming 'Software Supplier Of The Year' for 2018. They won 'Best Digital Product' at the Global Gaming Awards in 2014, 2015 and 2016. In short, Microgaming are a big deal, with an incredible reputation for quality. When they release a game, people pay attention.
The section for Immortal Romance on Microgaming's own website - and you can tell they hold it in high regard, because the section is still there after all these years - focuses heavily on persuading players to invest in the characters' stories; all of them have a 'story' button beneath their likeness on some of the feature screens, which allows you to read more about them and their individual motivations. We suspect that someone at Microgaming must have spent a lot of time writing them!
Related UK Slot Games
Incredibly, despite the constant and solid success of Immortal Romance; which remains as popular today as it was seven years ago; there has never been a follow up game of any kind made to it. No sequels, no games using the same characters, not even a scratchcard spin off. A browse of the internet reveals forums full of gamers who are openly calling on Microgaming to make a sequel, but there's no sign of one on the horizon. Perhaps the developer have just made a note of how popular the original game still is, and decided there's no reason to alter it if players still use it constantly.
Similar Games
Without an official sequel to Immortal Romance, that leaves us with a market full of similarly vampire themed games; many of whom will have drawn inspiration from the game without copying it directly. We've had a good look through all of them, and these are the best of the ones we've found.
Dark Thirst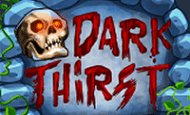 Blood is dark. Vampires drink blood. Therefore this game by 1x2 Gaming is called Dark Thirst! This is a slightly more cartoonish approach to the visuals of a vampire themed game, but there's plenty of gore in there which should please fans of the horror genre. The theme of blood comes up a lot in this online slot, from its promises of 'bloody big wins' (get it?), to its 'Blood Scatter' bonus feature. Like Immortal Romance, it has a suitably atmospheric backing track, and features five reels and 25 paylines. It's a solid enough vampire based game, even if it doesn't offer as many ways to win as Immortal Romance does.
Blood Suckers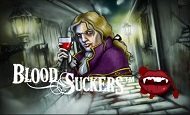 Net Ent were never likely to miss a trick, and here they are with Blood Suckers, which is their own entry into the vampire genre with a five reel, 25 payline game along the same lines as Dark Thirst. The game is wonderfully gory; winning lines are frequently accompanied by an animation of a vampire biting into an unfortunate girl's neck, with all the splattered blood you'd expect from such an incident. The visual style takes its inspiration from the Victorian era; the cartoonish characters you'll find on the reels wouldn't look out of place in an animated version of the movie 'Interview With The Vampire'. You'll also find some wild (literally) garlic to scare them away with. The RTP of this game is a massive 98%, but there are fewer ways to win when all's taken into account, and without backing music of any kind it does lack a little atmosphere; especially when compared to Immortal Romance.
Blood Queen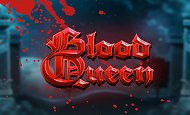 The more vampire slot games we see, the more we realize that Microgaming took an unusual route in not making it all about blood. They must have learned the appeal of Twilight better than anyone else did. Here are Iron Dog Gaming with their own vampire horror, which comes with the name of Blood Queen. It's female orientated; why should male vampires get to have all the fun, after all? The game won't win any awards for visual design; despite being a newer release than Immortal Romance, the graphics appear much more dated, and don't really convey any sense of danger or horror. The soundtrack is a different matter though, and does a lot for the atmosphere of the game. As for the playing experience? This is a five reel, three row slot with 30 paylines but, confusingly, an RTP of only 85%. That's very low in the current market, which will probably put some players off. There are some good bonus rounds, which do their best to make up for that, but it still feels low in comparison to the other games we've mentioned.
Crypt Of The Vampires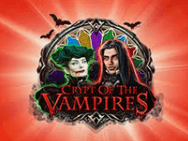 Red Rake Gaming probably came up with the closest competitor - or should that be copy? - or Immortal Romance back in 2016. Crypt Of The Vampires is a very atmospheric, very creepy game which makes good use of visuals, and offers 432 ways to win across five reels with differing numbers of rows. There was a trend a couple of years ago to come up with unusual play areas, and this game was one of the products. The vast number of paylines can be explained by the inclusion of five separate bonus features ranging from free spins to a full blown gory vampire attack, which changes the characters on the reels. The scenery and sound of the game wouldn't be out of place in an old Hammer Horror movie, and the result is a very good game. If we were going to critique it, we'd say that between the irregular rows and the multiple bonuses, it might be just a touch too complicated for its own good.
Mobile vs Laptop Gameplay
Many years have passed since 2011, so can Immortal Romance really work properly on a smartphone screen? Actually, yes it can. At some point in the years since, Microgaming have worked on their star attraction and made sure it's playable on any device. Given their award-winning status, we wouldn't expect any less of them.
The entire game has made it over to the mobile version, including all the animations, the moody soundtrack, and the dramatic voiceover that narrates the stories of all the characters. Nothing has been left out, and there's no physical difference between playing the game on a laptop or desktop and playing it on a computer, other than the fact you're using your finger.
A word of advice, though; make sure you tilt your phone into landscape mode before you start playing. Holding it horizontally makes the playing area tiny, and the buttons hard to hit. Whilst it has most certainly been optimised and adapted, it wasn't intended to be played on a portrait screen.
Latest Immortal Romance News
Seven years after its release, you'd probably be surprised if Immortal Romance was still making news reports, either within the industry or elsewhere. Despite that, it is. Immortal Romance is a hugely popular online slot (we wouldn't have it at UK Slot Games if it wasn't!), and so for as long as people play it, there will also be people writing about it.
LCB News, who focus on providing independent reporting for the casino industry, recently noted that Microgaming have been granted a license to supply operators in Colombia. Given that Colombia only legalised online slots in 2016, that's seen as a major win for Microgaming as a company. Within the article, it's noted that Immortal Romance is one of the top quality products that Microgaming supply. In fact, it's the very first game that gets mentioned in the article. Considering Microgaming have released so many popular titles since, that's pretty incredible.
The website Nerdstash, which focuses on cult television, cult video games and; in their own words; 'nerd culture' ran an article earlier this year focusing on the importance of character development in video games. Even though Immortal Romance isn't a video game in the strictest sense of the word, it's still well known and well respected enough to be mentioned in the article, where its characters and back stories are compared favourably to the legendary Tekken franchise of games. That's quite the compliment for an online slot!
Why Is UK Slot Games The Best Place To Play Immortal Romance?
If you've made it to this stage of the review, we're hoping we've given you a real taste for Immortal Romance; and by that we mean a taste for playing the game, not a taste for blood! It's a real classic of the genre that has stood the test of time, and is just as much fun to play in the here and now as it was when it was first released, all those years ago. We expect people will still be playing it in five years. By that time, with a bit of luck, Microgaming will finally have come up with the sequel so many of its fans would love to see!

Whether you've played it before or not, and whether you want to play it in five years or right now, we'd love you to stay here and play it with us on ukslotgames.com; and we've got some excellent reasons to persuade you.
Immortal Romance is just one of over six hundred online slots hosted at UK Slot Games. We've spent a great deal of time and effort curating and compiling our roster of games, focusing on quality and reputation. That's why we're confident we can offer you a great gaming experience no matter which title we select. 
We're focused, we're friendly, and we're dedicated to great service. That's why you should play with us!
*All values (Bet Levels, Maximum Wins etc.) mentioned in relation to this slot game are subject to change at any time.
New players only, £10 min fund, £200 max bonus, max bonus conversion equal to lifetime deposits (up to £250), 65x wagering requirements and T&Cs apply.