Diamond Mine UK Slot Game
Play Diamond Mine at UK Slots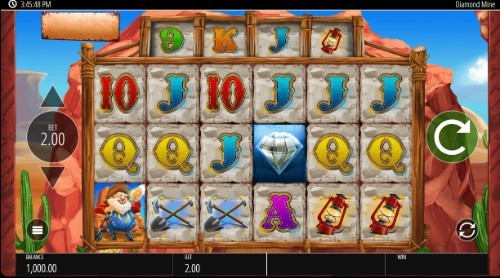 Diamond Mine UK Slot
Big Time Gaming brings us this large-scale mining themed slot. It's played on a massive layout involving six reels and varying rows, incorporating Big Time's 'Megaways' system to offer as many as 117,649 pay lines. The slot has 96.43% RTP and contains three bonus features. You can enjoy playing this slot right here at UK Slot Games, where it's part of a library of more than 500 high-quality online slots such as Great Rhino, Starburst, Rainbow Riches and Bonanza.
Hottest UK Slots
Diamond Mine might look a little familiar to some online slot players, both in design and in theme. That's because it's Big Time Gaming treading on familiar ground. Their mining-themed 'Megaways' slot Bonanza won 'Game of the Year' awards in 2017, so the developer has revisited the formula to see if it can yield them yet more success.
We'll assume the majority of readers haven't played Bonanza, and so we'll start at the beginning by explaining how 'Megaways' slots work. The central feature of any slot that uses the system is a massively variable playing area. There are always six reels in sight, but there can be anywhere between two and six rows on those reels. That number will change from spin to spin. The more rows there are in sight, the more paylines are open. Because of the sheer variety of combinations, this slot has 117,649 paying lines.
Graphically, the slot is a little basic (although given the complexity of the reels and rows, that's probably a necessity). There's a hint of sand and rock in the distance which suggests that we're probably out in nature, with the cacti by the reels indicating it's a dry and arid location. The reels themselves have a stone-like appearance, framed in wood and set into the entrance of an old mine.
Some of the symbols that appear on the reels have been directly imported from Bonanza. There are playing card values 9 to A at the bottom of the value scale, sitting below a miner's toolset, a miner's lamp, a diamond from within the mine and a cheerful miner with a big white beard.
The wild in this slot is represented by a stick of dynamite, which is again in keeping with the theme of the slot. It substitutes for all but the scatter to complete pay lines for you. The scatter is a bag of gold, but don't expect to see it on a standard spin of the reels. It comes from elsewhere thanks to another quirk of the 'Megaways' system.
If you looked at the screenshots before you started reading this review, you might have noticed a separate row of symbols floating above the reels. They're there for a reason; they drop onto the reels whenever there's a space created by a winning line blowing up.
Big Time's Megaway slots often use a Cascading Wins feature. That means when a win has been tallied, the symbols used to make it explode, and new symbols fall from above the reels to take their place. If they, too, result in new winning lines, they'll also explode, and yet more symbols will pour down from above. This is the only place that the scatter symbols can come from. That makes finding them a little difficult, but ultimately worthwhile. To explain why that is, we need to talk about the bonus features.
Game Bonus Features
In truth, the Cascading Wins system described above would be considered a bonus feature by the standard of most slots, but Diamond Mine isn't a standard slot. There are two 'proper' bonuses in Diamond Mine, and they work as follows.
The first is a Mystery Symbol, represented by a cluster of TNT, which can appear at any time. It can't be classed as a regular symbol because it doesn't stay in place; it explodes, turning into a symbol which will match at least one of those around it. Ideally, that completes a winning line for you and enables a Cascading Wins sequence to start. This feature can't be triggered; it's just an extra that the slot will provide for you at its whim.
You can, however, trigger the Free Spins feature. You'll need four of the scatter symbols to land on the reels if you want to trigger it. That's easier said than done, as we've covered above, but if you're going to get the best out of Diamond Mine, you'll have to stay at it until it happens. You receive twelve free spins for your four scatters, with more being possible if you can find more scatters while the round is in progress. The real potential for profit inside the free spins feature is that every time you find a win, the multiplier applied to your winnings increases by one. Get on a good streak of Cascading Wins, and you can reach 10x, 20x or even higher before the round is out. Depending on the stake you're playing with, that can result in serious cash.
Whenever we play a Big Time Gaming slot which has Cascading Wins, we're blown away by what a brilliant feature it is. So much so that we don't even mind the fact that this slot is basically Bonanza wearing a thin disguise.
Diamond Mine Developer - Big Time Gaming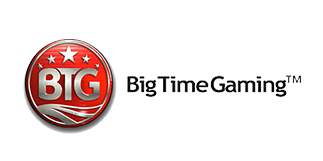 As we said earlier on, the 'Megaways' system has become Big Time Gaming's claim to fame. It was the driving force behind Bonanza being named 'Best iGaming Software Experience' by Meister in 2017, and they've since put it to good use in other slots including Hot Chilli. Big Time Gaming achieved something unprecedented at the Meister Awards that year; they not only won that category, but they also finished in second place with Danger: High Voltage.
By changing the conventions of what a reel-and-row layout in a slot game looks like so dramatically, Big Time has thrown a gauntlet down to other developers when it comes to innovation. Some of their rivals have simply thought 'if you can't beat them, join them,' with Blueprint Gaming paying Big Time a fee to use Megaways in their own slots. It would be impossible for every idea the developer comes out with to be this good, but at the same time, we can't wait to see what else they have up their sleeve.
Fans of video games may be interested to know that Ian Schmidt currently holds a senior position at Big Time. Before his appointment, he was in a senior role at Rockstar Gaming. That's the company responsible for both 'Red Dead Redemption' and 'Grand Theft Auto.' Is it a sign that Big Time Gaming is about to push the video-game feel of their slots even further? Time will tell.