Africa Goes Wild UK Slot Game
Play Africa Goes Wild at UK Slots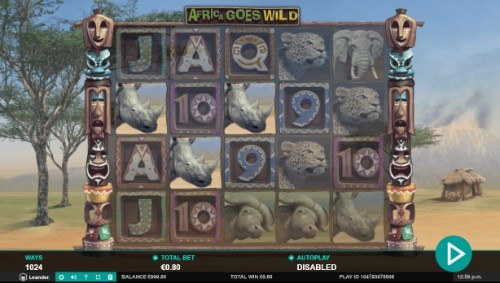 Africa Goes Wild UK Slot
Africa Goes Wild is a 5 reels, 1024 paylines UK slots game by Leander Games. Africa Goes Wild has Scatter symbol, Wild, Free Spins, Multiplier, Respin and Additional Wild features, and an RTP of 96.04%. Your best option for playing Africa Goes Wild us here with us at UK Slot Games, which is also the home of over 500 great UK slots including Great Rhino, Starburst, Rainbow Riches and Bonanza.
Hottest UK Slots
There are a few themes and genres that every single UK slot games developer will try at least once. The Irish theme is a common example, as is the 'gems and jewels' theme. Nowadays, it would seem that you can't consider yourself a 'real' big time developer unless you've got at least one slot in your library which involves Africa's wildlife, and so here we are with Leander Games throwing their hat into the ring with Africa Goes Wild. It's a different take on the same idea which has proven to be very successful in slots like Great Rhino and Stampede.
When you choose to use real-life subject matter for the theme of your slot, you have a decision to make. Do you go with a realistic approach, or a more 'cartoons and comedy' style that makes it clear your slot is a fun one? Leander has taken the former approach. The wild beasts which roam the reels of Africa Goes Wild are beautifully drawn, but they also look like they could trample you or eat you in a heartbeat. They're a little intimidating, as is the tribal background music, which is interlaced by the sounds of the animals. Africa Goes Wild is big on atmosphere. There are plenty of safari slots UK players might have come across before now, but few of them are this committed to making things feel authentic.  
Africa is home to plenty of big game, so it's only tight that this is also a 'big game!' The layout is five by four, offering plenty of space for symbols and pay lines. Leander manages to reach a total of 1024 paylines by throwing the rulebook out of the window, and paying out any time you have three or more matching symbols on neighboring reels. They don't have to be in perfect formation so long as they're all there. The symbols here are huge, and the reels take up all the space on your screen, with a frame of African masks and totem poles running around the outside. Playing card symbols 9 up to A take care of the low values, and even they've been designed to fit in with the slot's theme. We have to salute Leander's attention to detail there. Your full cast of animal symbols, which are all worth more than the playing cards, are buffalos, cheetahs, rhinos, elephants, and lions. Pay special attention to the lion symbols; simply having two of those on adjacent reels is enough to trigger a payout. All of the other symbols require the standard three.
The Africa Goes Wild logo is literally a wild, and it can replace everything else to help you complete winning combinations. You'll only see it on the middle three reels. The one exception to the 'replacement' rule is the slot's scatter, which is represented by a statue of a lion. As well as working as a scatter symbol, it's holding the keys to one of the bonus features.
Game Features
Leander hasn't been stingy when it comes to the bonus features on offer within Africa Goes Wild; as well as having a strong free spins round to offer you, there are a couple of random reel modifiers to look out for, which can crop up any time you spin the reels.
Animals Go Wild
The first of them goes by the name Animals Go Wild. When an animal 'goes wild,' they function as a secondary wild symbol, and also become as valuable as the lion. You'll know when this happens; the symbol will take on a yellow glow on the reels. This feature doesn't trigger any fresh spins for you - it just re-evaluates what's already on the reels after the new 'wild' animal is taken into account.
Animal Stampede
The other reel modifier is Animal Stampede and is a little more specific in terms of when you might see it. As with many other UK slots, you need at least three scatter symbols to trigger the main bonus feature. If you only have two, the slot might decide to help you out by having animals' stampede' across the reels, and knocking that elusive third scatter symbol into place.
Free Spins
As we already said, the 'proper' bonus feature is Free Spins, which is triggered by finding those three scatters on any one spin. That's good for getting you ten free spins to begin with - and we say 'to begin with,' because that might change!
While your free spins are up and running, the normal wild symbol is taken away from the reels, with a new multiplier wild instead. This new wild is better than the original - it doubles the value of any winning combination it becomes a part of. At the same time, there's a new symbol that's exclusive to the fifth reel. That's the 'golden lion' symbol, and each time you land it, a meter above the reels builds up. The more times you land the golden lion, the better prizes you'll get from that meter. One of those prizes is a higher multiplier, but you might also find you get more free spins on top of what you already have, or the Animals Go Wild feature activated within your free spins. You wouldn't say no to any of them!
You have to show innovation and quality to stand out in a crowded market of animals-and-nature themed UK slots, but Leander has managed to make it look effortless. The spontaneous reel modifiers make every spin exciting, and the free spins feature is great if you can get that bonus meter built up.
Africa Goes Wild Developer - Leander Games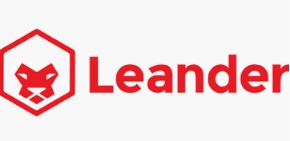 There are some countries in the world which are 'hot spots' for slot providers and developers. The United Kingdom is one of them, which is why UK Slot Games exists! If we look at some of the slots UK players play the most, we'll find offerings which have come from as far away as Australia, and then closer to home in Germany. The USA is becoming more and more active, and Malta is as popular now as it's ever been, but Leander isn't based in any of these locations. They are, in fact, the premier slot game development company in Argentina.
Leander are a decade old as of last year, having opened the door of their head office in Buenos Aires back in 2008. On their own website, they make it clear that they think a great slot game should also be a beautiful slot game; their commitment to stunning design is obvious when you look at Africa Goes Wild, but you're sure to be charmed by the beauty of Wild Jane if you take a look at that pirate-themed Leander slot, too. There's a reason Dolly Parton trusted them with the license to make her own official slot game; there's no chance she'd hand the rights over to anybody who wasn't going to make her look good!